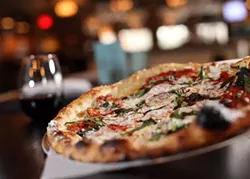 Market North End
474 N. Old Woodward Ave.,
Birmingham
248-712-4953
marketnorthend.com
Pizzas: $11-$15
Entrées: $14-$35
Handicap accessible
Hours: 11:30 a.m.-1 a.m. Tuesday-Saturday, noon-midnight Sunday (kitchen open till 11 p.m., pizzeria till midnight)
One of the notable facts about the new Market North End (which is a restaurant, not a market) is how vegetarian-friendly it is, especially if that vegetarian eats seafood. Putting that information up front could give the wrong idea, because the place is no kind of scrubbed-and-earnest veggie joint; there's plenty of meat and plenty of cocktails. Its Birmingham neighbors are flocking to it and stuffing it to the gills, to the point where weekend waits are at least an hour, and a diner can barely hear herself think above the surrounding happy din.
Nonetheless, it remains notable that more than half the 12 pizzas are vegetarian. There's a separate vegetables list where a lot of attention has been paid to making the six choices interesting, and portions are nearly entrée size (for $6-$7).
Remember matchbooks? Instead of "Close cover before striking" — which someone said was the most-printed sentence in the English language — it's now: "Be safe. Keep cover closed." In a nice nod to the past, Market North End hands out matchbooks with its logo, as well as a retro postcard showing a couple of happy imbibers in bow ties. But the best extra is the enclosed heated patio that provides respite from the crowds. On a recent night when it was 20 degrees outside, our legs got a little cold but our upper halves were toasty.
After all that praise for the veggies, I have to say that the very best thing we ate at the Market was its hanger steak. Though it's not supposed to be a tender cut, this one was velvety, and the cilantro sauce actually imparted a Bearnaise-like flavor. It comes cut into bite-size pieces, so perhaps that's one way the kitchen deals with any remaining toughness issues. My companion was a bit disappointed that the accompanying "roasted root vegetables" turned out to be carrots and potatoes.
Other entree options are ribs, fried chicken, rib-eye and four kinds of fish.
Chef and co-owner Joe Bongiovanni does wonders with carrots, roasting them with nutmeg and adding a couple of dollops of yogurt sauce. Rich and brandy-like butternut squashes have a touch of chili oil added to perk them up. I would have liked the grilled broccolini to stay on the grill a bit longer; I had to borrow a steak knife to cut them. But the idea is right, with a glaze of browned balsamic and Asiago. Chickpea stew also includes chili oil for a kick, and labneh (strained yogurt) to soothe. Lentil soup, eggplant, green beans and cauliflower are other ideas to tempt the carnivore astray, each with something special added.
We tried a beet and avocado salad, a combo new to me, and loved the fact that arugula was a main, sharp flavor. Bulgur salad was refreshing, sort of a complex slaw. There's also an apple salad that sounds way better than a Waldorf, though the walnuts are there: It uses scallions, mint, lime juice and olive oil.
After checking out coal and wood pizza ovens, Bongiovanni decided they didn't add flavor but were less flexible than an electric, which can vary temps from top to bottom while reaching nearly 800 degrees. The thin pizzas produced therein are inventive, each one distinct, with good ingredients like fennel sausage, fresh clams, pistachios, fresh mozzarella, pancetta and arugula. (No, they don't all come on the same pie, but I suppose you could ask.)
We tried a roasted shiitake and cremini pie, with leeks, goat cheese and garlic oil. The mushrooms shone through strongly, not overpowered by a heavy sauce, as can easily happen to mushrooms, and the tart cheese was in just the right amount.
Calzones are also on the menu, for those looking for something heartier.
The three appetizers we ordered were a bit disappointing, twice for their lack of garlic. Skordalia, the Greek garlic-potato purée, was bland: "suburban skordalia," sniffed my companion (but the fresh, puffy chips for scooping it up were excellent). The garlic soup, similar to French onion, was also too mild, and the promised "crunchy croutons" a sodden mass. Pasta fritters — spaghetti in a cream sauce with a thick fried shell — had little flavor other than "fried."
The Market offers house-made Sangria by the glass, made with apple brandy, and also "keg wine" (if it's keg, why is it $8?). Craft cocktails could keep the experimenter busy for a while. One incorporates falernum, the Caribbean syrup with flavors of lime, almond, vanilla, ginger and clove. My companions were disappointed that their preferred vodkas were not in store, but happy to drink Two James out of hometown pride.