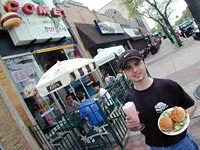 Ah, the '50s. My father, an electronic engineer, was blacklisted, thanks to Sen. Joseph McCarthy. Every time my dad got wind that he was about to be fired, he'd quit. He held a long string of jobs throughout the '50s, until he landed at Consumer Reports where they didn't care who had what political affiliation.
Once a year my father would take each of his three daughters to work (long before there was a nationally recognized day for doing so). We'd ride the commuter train into New York City. My dad slept on the train, and I worried that we'd miss our stop.
The highlight of the day was lunch at the Automat. Food was dispensed from behind hundreds of tiny little chrome and glass cubbies that each opened by an impressive latch. From my father's description, I expected there would be no humans, but you could see the ladies through the glass doors. They replenished the tuna and egg salad sandwiches as customers pulled them out. Now that's a '50s restaurant concept worth reviving.
Comet Burger's concept of the '50s is pink vinyl and stainless steel chairs, Formica tabletops decorated with little boomerangs (you'll recognize them when you see them), album covers on the walls, and lots of TVs. For food, it's sliders and malts.
The malts alone are worth the trip. For $3.77 you get a huge stainless steel cup, frosty on the outside, whipped up with ice cream and little bits of malt. Order any flavor — we were nostalgic and ordered chocolate. There are at least two servings in the container, so you can re-create the '50s image of the guy and girl sipping together through his-and-hers straws.
As for the sliders, they're sliders. They come with grilled onions, which improves the flavor considerably.
Comet Burger serves up a range of fried goodies. French fries were surprisingly flavorless, but that seems historically accurate. We tried fried mushrooms one night, which were oddly watery under the fried batter; you have to eat with caution. The onion rings were better.
Homemade soup of the day was chicken noodle both times we visited. It's made with big broad noodles and bits of carrot and chicken. The Texas chili is another good choice, and it is not nearly as spicy as the menu warns.
Specialty sandwiches include Philly chicken and Philly steak. Grilled onions and peppers, melted Swiss and a grilled steak or chicken breast served on a bun makes a pretty good lunch.
Desserts are heavily weighted toward ice cream specialties. The Sander's hot fudge cream puff is an overboard dessert with mounds of whipped cream scattered on the plate, and lots of ice cream and chocolate sauce.
The apple pie I tried one evening, however, was disappointing. The server kept saying, "Don't you want ice cream on that?" as if the pie wasn't much by itself, which it wasn't.
In the '50s, you were lucky to have a TV at home, and the idea of TV as a restaurant decor / entertainment had not arrived. Comet Burger packs 10 televisions into its small space. All are muted so you can listen to the '50s music, which is preferable to the tube any day.