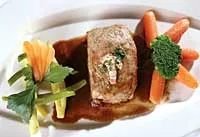 It used to be called Maxine's. Same owner, same chef, same food. But when Bujar Mamuslari began remodeling his little restaurant, he took the opportunity to give it his childhood nickname, Bucci. "It means chubby cheeks," he says flatly. "I don't have chubby cheeks anymore."
As Maxine's the modest surroundings were trumped by the terrific food. It was the kind of restaurant you weren't sure you wanted to talk about — maybe you wouldn't be able to get a table on a weekend evening.
The remodeled restaurant is more elegant, spacious, comfortable and relaxing, but the most coveted seats are still the stools that pull up to the marble counter surrounding the open kitchen where diners can watch the theater that is cooking as an art.
Melanzana parmigiana presents eggplant like two slim fillets of fish. Two lengthwise slices of eggplant are dipped in a "tosca batter" and pan-fried. A simple tomato sauce is ladled over them and topped with mozzarella, which is baked until the cheese melts. In lots of restaurants, eggplant is disguised rather than presented, as if it would not be palatable unless hidden under many layers. This dish is the opposite. If you truly like the taste of eggplant, try it.
(I decided eggplant parmigiana was something I could make for myself at home. I looked in a half-dozen Italian cookbooks and then turned to the Web for the ingredients in "tosca batter." Nothing relevant came up. I asked Mamuslari about it; he laughed and said, "It's easy," and described how he coats the eggplant with flour, then dips it in eggs blended with Parmesan cheese, seasons with salt and pepper, and then fries it. Part of the secret, he says, is that everything at Bucci's is made to order, so it's at its very best when served.)
Many flavors harmonize to create veal Romano. Three medallions of veal, pounded very thin, are coated with melted mozzarella and served on a bed of thinly sliced mushrooms in a sauce that includes prosciutto, shallots, lots of garlic, tomatoes and brandy. When flambéed, all of those flavors come together.
One thing that characterizes Mamuslari's food is simplicity in presentation that belies the melding of flavors that go into a single dish. The tomato sauce is totally straightforward, boldly red, without any specks of sautéed this or that. Mamuslari says he gets the sweet flavor by caramelizing the onions and garlic, and sometimes he cooks the tomatoes with a potato, explaining that the starch adds more sweetness. The potato is eventually discarded. Likewise, he sometimes adds a bunch of basil, still on the stems, and later discards it, leaving the flavor but not the color.
Another signature dish is chicken bella, which features dried cherries, hazelnuts, walnuts and portobello mushrooms in a marsala sauce. A pan-roasted salmon is married with balsamic vinegar demi-glace, which also flavors the angel hair pasta underneath. Penne paisanne is again deceptively simple with a cream-based tomato sauce flavored with garlic, brandy and shreds of fresh basil. The calamari appetizer is served with an abundance of capers and sweet red peppers; the squid — appearing both as rings and with tentacles intact — is sweet and tender.
Dinners come with soup or salad, and non-pasta entrées include a side order of penne with marinara. The minestrone is delicious and not too heavy; house salad is nothing special.
Bucci's is open seven days a week, but only for dinner. If you've been intimidated by the long waits at Maxine's, they've subsided, and reservations are accepted.
Elissa Karg dines for Metro Times. E-mail [email protected].