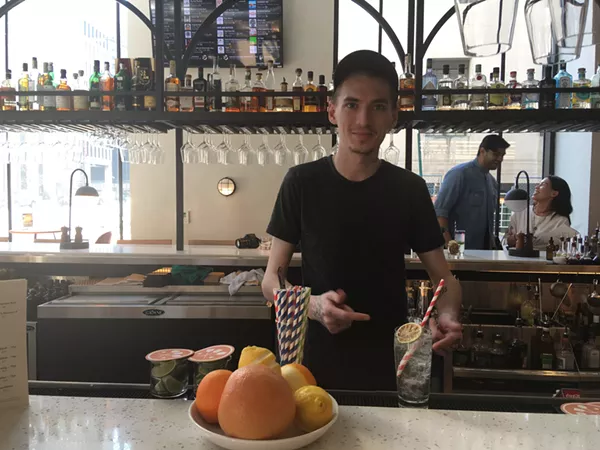 The bar at Detroit's recently opened Fort Street Galley food hall is now serving colorful craft cocktails and other libations as "Magpie," which officially opens to the public on Friday.
The name comes from the folkloric "thief birds" known for an alleged (though scientifically
disputed
) preference for lining their nests with shiny objects. "The name itself was kind of like indicative of our philosophy," says bar manager Marlowe Johnson. "I think that we as bartenders, in our own way, like shiny things — we are in our own way thieves of memories or experiences. So I think that's really the big through-line here for me, is this idea of whimsy."
Before joining Fort Street Galley, Johnson previously served stints working at other Detroit bars like Gold Cash Gold, Standby, Detroit City Distillery, and Candy Bar, his most recent gig. "I had this ethos of moving and trying new things," he says. "So there was a big switch going from a 30-seat, very intimate, very elevated craft cocktail fever-dream pink jewel box," he says, referring to Candy Bar, "and now we're in an expansive 275-seat (food hall) with a heavy food component."
For Magpie, Johnson says
the
was to distinguish Fort Street Galley from parent company Galley Group's other beer-focused food halls — which includes spots in Pittsburgh and Cleveland, and forthcoming spots in Chicago and Minneapolis — with a cocktail-focused program. As far as those cocktails go, Johnson says he wanted to make Magpie's more approachable and fun.
With Magpie, visitors can expect the same emphasis on hand-crafted creations and locally sourced ingredients that can be found at the food hall's chef-driven restaurants. "My team here, in terms of culinary knowledge, is world class," he says. "We have people who were doing things that I've never thought of before. And just because we're making these incredible things, it doesn't mean we need to, you know, be all sour about it."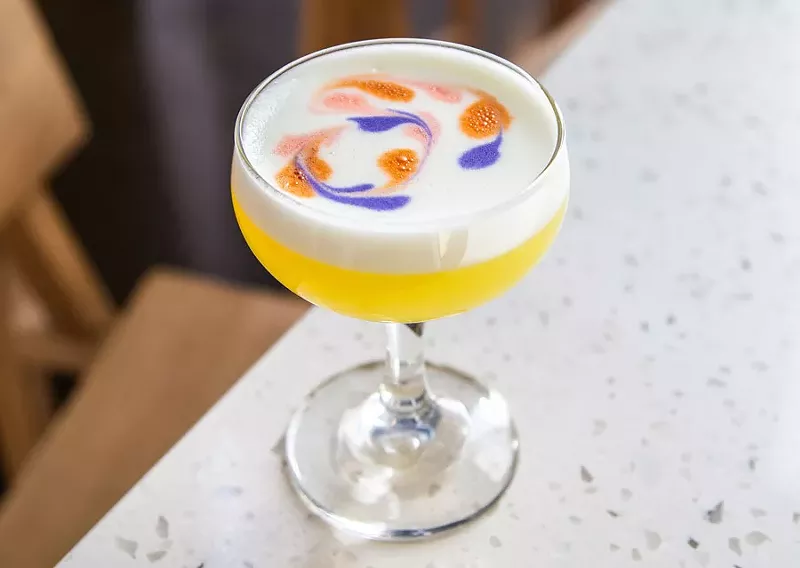 Johnson describes Magpie's cocktails as "bigger and brighter and more colorful" — "a little bit smarter than you'd expect it to be, and a little bit more rough-and-tumble than you'd expect a cocktail bar to be," he says.
That includes a menu of rotating seasonal hand-crafted cocktails priced at $13, like "Doves in the Wind," an egg white-based drink made of Control C Pisco, Suze, citrus cola syrup, pineapple, and lime. There's also the "Kyoto Special Line," which features Long Road corn whiskey, Bushido sake, lemon, grapefruit, and locally sourced shiso from Planted, a vertical hydroponic farm on Detroit's east side.
"Each one of them has like this big element of fun to it, and a little bit of like, you wouldn't expect us to do it," Johnson says.
Magpie also offers $6 draft cocktails in addition to an extensive beer, wine, and spirits menu. It also offers $12 "charity cocktails," with $1 from each sale going to a different charity each month. The spot will also host DJs spinning on Fridays and Saturdays between 11 p.m. and 2 a.m.
Fort Street Galley is located at 160 W. Fort Street, Detroit; 313-230-0855;
fortstreetgalley.org
.

So many restaurants, so little time. Sign up for our weekly food newsletter delivered every Friday morning for the latest Detroit dining news.