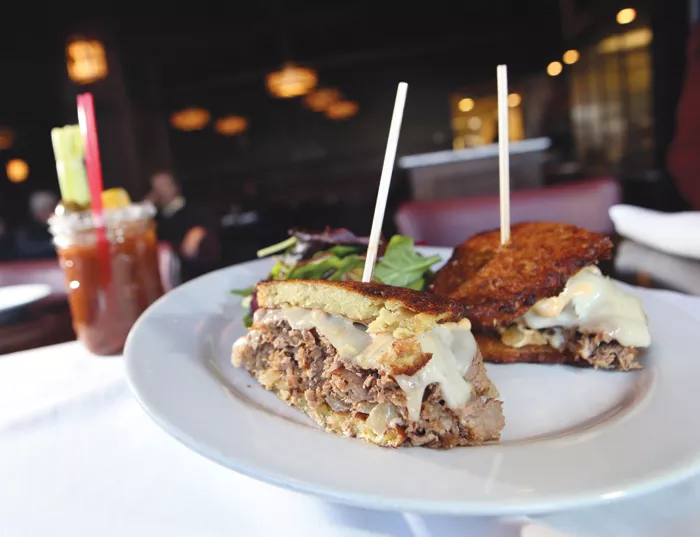 Maccabees at Midtown
5057 Woodward Ave., Detroit
313-831-9311
maccabeesdetroit.com
Handicap accessible;
Sandwiches: $8.50-$14
Mains: $13-$23
Hours 10 a.m.-6 p.m. Sunday (brunch all day), 11 a.m.-10 p.m. Monday-Wednesday, 11 a.m.-11 p.m. Thursday, 11 a.m.-midnight Friday-Saturday.
Never known for razor-sharp decisiveness, I had an exceptionally hard time making up my mind at Maccabees, because every item on the menu sounds so good. Bumping into an acquaintance on the way in, I sought guidance, and she would vouch only for "everything."
Its name aside, who wouldn't waver long over the BLAT: bacon, lettuce, avocado, tomato on grilled rye with basil aioli (fried egg optional)? Or the "Lone Ranger," a sandwich whose innards are brisket, grilled onions, provolone and chipotle mayo, and the "bread" is potato pancakes. I kid you not — if it weren't 10 times as much work to make a sandwich with potato pancakes, we'd all be doing it, every time, for everything except PB&J.
But that's what restaurants are for. Owner Petar Berishaj brought the potato-pancake sandwich with him from his several Gateway Delis when he opened the spot at Woodward and Warren a year ago. The Albert Kahn-designed Maccabees Building, built in 1927, is on the National Register of Historic Places and is now owned by Wayne State University. It's the perfect location for a restaurant that's good for lunch — sandwiches dominate — but also good for any sort of pre- or post-Cultural Center event nosh; think of Traffic Jam as a semi-equivalent.
The place was redecorated to produce what Berishaj calls "an ambience that feels like it's been in the building forever, even though it's completely new," and I'd agree. There's a stamped-tin ceiling and intriguing lamps with cut-out silhouettes that are replicas of the building's original lighting. WXYZ radio broadcast "The Lone Ranger" from this building here in the olden days, and the name shows up a couple of times on the menu.
Don't go to Maccabees thinking you'll order, say, a salad and a sandwich. Choose one. Portions are large, including big bowls of soup. Save your money instead for a cocktail, such as the Balsamic Strawberry, made with fresh fruit; the Three Berry, which is raspberry vodka, Chambord (more raspberries) and cranberry juice; or something more classic like a Woodward Old-Fashioned or a Bloody Mary. Head bartender Doc worked for Chuck Muer in the '90s and perfected the Mary's secret ingredients then, when he used to serve 400 to 500 people for a "hellacious brunch."
My favorite items were those potato-pancake sandwiches; the 33 Blue with pastrami, corned beef, Swiss and blue cheese; and the Hitsville with smoked salmon, smoked turkey and cream cheese. Both were impossibly tall, their classic flavors mingling, in each case, with a small surprise. Another possibility, though I always wonder what's meant by "BBQ sauce," is the Southern Belle: roasted pork with cheddar and tobacco onions on — get this — sweet potato pancakes.
Sandwiches on normal bread are quite worthy as well. I had a blackened whitefish on ciabatta that was quite fine, though I did end up removing some of the red onions. A Lobster BLT used lemon aioli, and the combo of crustacean and pork did credit to both.
House-made chips are stout and just the right degree of salty.
Salads are proportionally even more generous than the sandwiches, and they come with toast. A kale with Gouda and hazelnuts stood up chewily to its anchovy dressing and was sturdy enough to be re-attacked the next day. A big pile of beets and arugula sported not only toasted walnuts and a good balsamic dressing but three fried balls of goat cheese.
Great salad name, though I can't get behind the concept: the Brutus, a Caesar with tomatoes.
For starters, we liked the thick New England-style clam chowder and the calamari. Chef Michael Stewart used the usual capers with calamari but, again, threw in something new — goat cheese and red onions.
After 5 p.m., Stewart also serves mains: three pasta dishes, including Maccabees and Cheese, a couple of light chicken entrees, a salmon, a meatloaf and a New York strip.
Soon after the restaurant opened, I saw some beefs online about Maccabees' service, but there was certainly no cause for complaint when I visited in December, with both servers we met quite competent and helpful.
One server was clearly proud of his mother, Sandra, who is the pastry chef. She makes a fabulous Maccabees Cake: two layers of superior, light, moist chocolate cake around a cheesecake interior. Chocolate cake can be boring, but certainly not this one.
Doc tells me management would like to encourage more of a bar scene, and to that end promotes a 3 to 7 p.m. weekday happy hour when well drinks and house wine are half-off and the appetizers are a quarter off. That's a nice long happy hour.