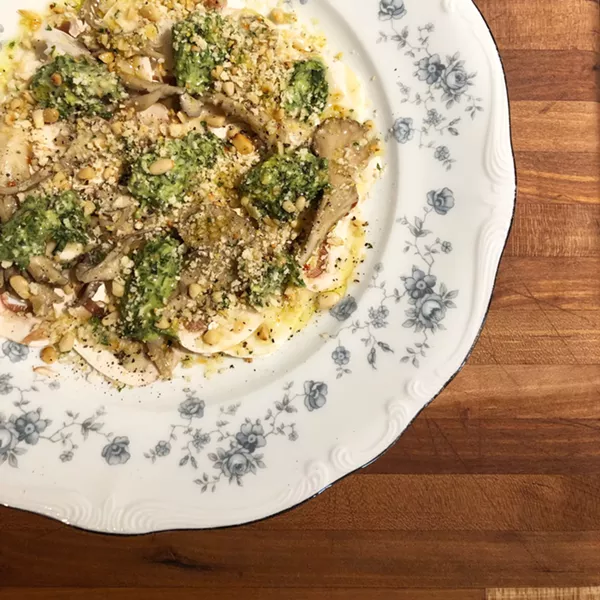 Consider that there are a limited number of animals with which to cook and thousands and thousands of vegetables, and it's pretty easy to understand why chefs find an appealing challenge in vegan cooking.
"Chefs are drawn to vegetables. We love vegetables more than most animals," says Mabel Gray owner and chef James Rigato of the culinary world's growing appreciation for plant-based dining. "There are so many — ramps, fiddleheads, morels, tomatoes in season, olive oil, vinegars — it's more exciting than 'Look at this whole goat that I got.'"
That range will be on display in August when his well-loved Hazel Park restaurant will go vegan for nearly a month, offering an eight-course, plant-based tasting menu. That comes after a successful vegan week Mabel Gray hosted in March, which Rigato says was the result of customer requests for plant-based meals.
"That was 'Hey, we hear you, it's your week.' It sold out so fast and packed the house with vegans and non-vegans, and everyone who came out had a blast,'" Rigato says, noting that only about 40 percent of customers during the week were true vegans.
"I think a lot of people are eating vegan that aren't living a true vegan lifestyle," he adds. "You feel better, that's a no brainer. So to me — I eat vegan all the time, but by no means am I vegan. A lot of people want that fresher, brighter plant-based experience without having to alter their lifestyle."
The menu will be about variety and incorporate everything from black truffles to heriloom grains to boutique vegetables that are seared, smoked, charred, raw, fermented — "all the touch points of an exciting multi-course menu, but just featuring vegetables," Rigato says.
That means dishes like the mushroom carpaccio with shaved raw button mushrooms, pesto, lemon vinaigrette, pine nut crumble, and maitake conserva.
For those wondering, "all vegan" really means "all vegan." Rigato stresses that he will not add an egg to a meal, or provide cream or anything else from an animal, as some requested during the last vegan menu.
He notes that he chose to roll out a plant-based menu in August for a reason.
"It's the hottest month and one of best months for Michigan produce," he says. "During August, fisheries and animal farms quiet down. Whitefish and walleye are swimming in deeper waters to keep cool, animals aren't eating as much in the hot sun ... and I'd much rather eat fruits, vegetables, grains, and probiotics when it's 100 degrees out than a pound of steak."
Tickets are $65 per person. Book in advance by calling 248-398-4300.
So many restaurants, so little time. Find out the latest Detroit dining news with our weekly food newsletter delivered every Friday morning.