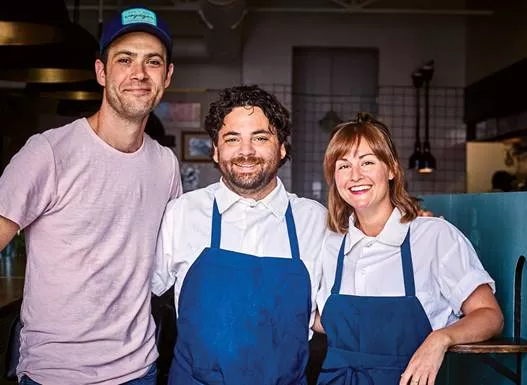 Long-awaited downtown Detroit burger and sandwich restaurant Lovers Only opens tomorrow in downtown Detroit's Capitol Park.
It's the second restaurant for Eli Boyer, who launched the successful Voyager seafood spot in Ferndale last year. He's again teaming up with Voyager chefs Justin Tootla and Jennifer Jackson for this project.
A release from the restaurant says it crafts "burgers and sandwiches that draw from [the chefs'] rich culinary experience — as well as family memories — to create a menu that not only delivers deliciousness, but a story as well."
The short and simple menu includes eight burgers and sandwiches, three sides, and two salads. Among the burger options are the Classic Smash (six ounces of beef, American cheese, onion slice, lettuce, mayo, and mustard) and the Bitter South (six ounces of beef, comeback sauce, Emmentaler cheese, hash browns, and fried onions). Beef is supplied by Ferndale's Farm Field Table, and each burger and sandwich has its own unique bread.
Sandwiches include the The Extern (cold fried chicken, white barbecue sauce, and jalapeno slaw), and Lovers Only will offer hand cut fries, smothered fries, and onion rings on the side.
On the beverage menu Boyer's keeping five beers and three drinks on tap. The latter includes a house punch, spicy margarita soda, and negroni. Non-alcoholic drinks include Mexican coke, a lime coriander soda, and more.
"We're thrilled that our vision for Lovers Only has come to fruition, and we can't wait to share our independently-owned burger joint with the Detroit community. Care, craftsmanship, and hospitality is at the core of everything we do, and that shines through in every element of this restaurant," Boyer says.
The restaurant is at 34 W. Grand River Ave., Detroit. Hours are Monday through Thursday from 11 a.m. to 10 p.m.; Friday and Saturday from 11 a.m. to 11 p.m.; and Sunday from 11 am to 9 p.m.
So many restaurants, so little time. Find out the latest Detroit dining news with our weekly food newsletter delivered every Friday morning.