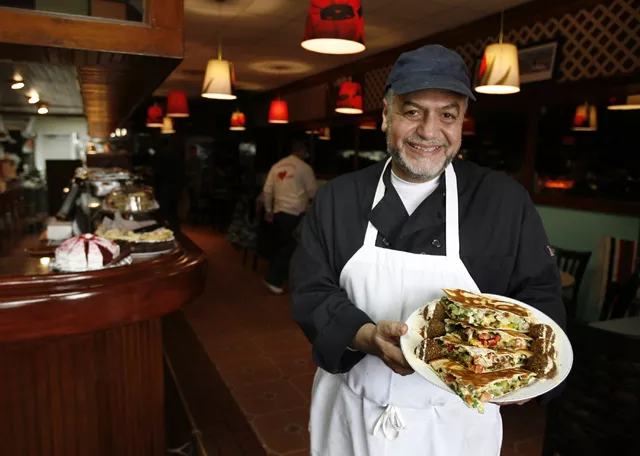 Harmonie Garden
4704 Third St., Detroit
313-638-2345
My computer contains a review of Harmonie Garden going back to when Desiree Cooper was editor of the Metro Times — and that was Harmonie Garden III. Owner Taher Jaber has opened and closed five iterations of his Middle Eastern restaurant in five locations. What makes him think No. 6, open since November, will survive?
Low prices, huge servings, a Wayne State location, top-notch falafel — and a 10-year lease.
Wayne State grad Jaber, born in Damascus, is the falafel king, with a factory in Eastern Market that supplies Middle Eastern markets and, soon, Whole Foods. The Harmonie Garden staff wears T-shirts that say "Falafel, I / you."
Not every dish at Harmonie Garden is the most sublime Middle Eastern food I've ever eaten, but some are outstanding, and the food is certainly tasty and a great value when all aspects are considered: quality, quantity, price, friendly service. My party of two spent $30 and left with four Styrofoam boxes.
The vegetarian-friendly menu is long and comprehensive. Falafel gets its own section, including a "Flobby Joe" served with chili. Falafel stir-fry, fala-melt, falafel with Parmesan, falamankoush (za'ater pie stuffed with veggies and falafel), barbecue falafel — there's no reason to restrict yourself to the simple $3.50 falafel pita (except a reasonable skepticism about some of the aforementioned).
I tried Arabi Falafel for $5, a big pita stuffed with our favorite plus veggies and fava bean sauce. The pita was crisp and warm, the tomato and lettuce welcome, the mild falafel bright green on the inside (that's the parsley) and toasty brown without.
What stood out even more, though, were bamya, a sojouk sandwich, kibbeh, beef stew, and a Sharif spinach salad.
Bamya is okra stewed with peppers and onions and served with salad, rice and mujadra (lentils cooked with wheat and topped with caramelized onions) for $7.50. It's rich and satisfying, spicy in a complex and interesting way from the Syrian spice mix used, but not overly fiery. According to Saveur magazine, common ingredients in this mix are black pepper, allspice, paprika, sumac, cinnamon, nutmeg, cassia bark, coriander, cumin and cardamom.
Four pieces of kibbeh for $8.49 will fill you up, with hummus, rice and salad. (Kibbeh is minced lamb inside a torpedo-shaped shell of ground lamb, bulgur and Syrian spices, fried.) In this one you can taste the cinnamon.
Sojouk is used in an overstuffed pita sandwich called "lamb sausage and cheese" ($4.99). Peppery links are cut up and paired with fried onions and mild Syrian cheese, made from whole sheep's milk. Though I burned my tongue on an incautious first bite, I loved the vivid umami-ness.
The Sharif spinach salad with red and yellow peppers has a tahini dressing and is topped with a generous serving of crunchy, nutty, smoky mujadra, an appealing way to get protein. Jaber says it's one of his more popular dishes, after falafel.
The Sunday brunch includes a number of meat dishes, including lamb liver, and some overcooked whiting. We went back for seconds of a simple beef-and-beans stew that was tender and pleasantly spicy.
We also liked chicken mussakhan, a Palestinian dish with a barbecue-sauce taste. Chunks of chicken are sautéed with sumac in olive oil and rolled in warm pita (rather than served on a flatbread as is traditional, according to Wikipedia). Chicken sultan is noticeable for the barely cooked freshness of the spinach that's incorporated. My companion thought it too cheesy (Jaber uses Swiss), but that's not a complaint many would share.
We found two staples a bit bland, though perfectly acceptable: hummus and lentil soup. I prefer my hummus more garlicky, and the thick soup ($2.75 for a large bowl), though lemony, could have used more flavor. Better was smoky baba ghanoush, dressed up with cucumbers and red, yellow and orange peppers.
One of the more remarkable bargains in this restaurant of bargains is the Sunday buffet, spread out along the bar (the place used to be Tapper's Tavern). It's $9.99 for all you can eat plus coffee, "to make sure you're full before you leave," Jaber says. Besides the dishes above, and more, there's a lovely thick yogurt with olive oil.
If you prefer a regular breakfast on Sunday, or any day, it can be Syrian: fool madamas (mashed fava beans with olive oil, onion and garlic). Or it can be American: eggs with hash browns or grits, French toast or omelets (omelets are served all day). Jaber is still serving an "eggless omelet" I tried at his Palmer Street location, where it was light and fresh: sautéed onions, spinach, red pepper, crunchy broccoli and melted soy cheese — served with red-hot "roasted home fries."
Only the most ambitious would try making falafel at home, but in case you want to know how the falafel king does it: Soak chick peas at least 16 hours, no more than 24. Wash them three times. Mix with parsley, onions, garlic and pepper, and grind. Meanwhile, you've roasted your 11 spices and ground them; put those in too. Put the dough in the falafel machine to form balls. Fry or bake.
Harmonie Garden is open 9 a.m. to 9 p.m. Monday to Saturday and 11 a.m.-5 p.m. Sundays. With wi-fi.