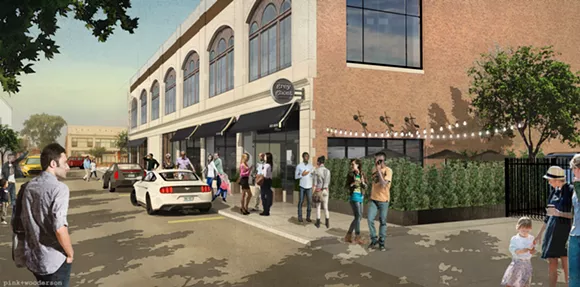 Grey Ghost Detroit, the forthcoming meat-centric restaurant and cocktail bar, officially has a home. The spot's location, which up until today had only been identified as being in the Brush Park/Midtown area, will be at 47 E. Watson (at Woodward) and is set to open this summer.
At about 2,500 square feet, the 80-seat restaurant - owned by Chicago chefs John Vermiglio and Josef Giacomino - will sit just a few blocks from the new Red Wings Arena. The eatery, to employ about 30 full-time and part-time workers, will occupy one of three street-level commercial spaces of the Crystal Loft Building, all of which make up the former Ye Olde Butcher Shoppe. The Crystal Lofts are owned by American Community Developers Inc.
"Grey Ghost is a great fit for the building and the neighborhood. I've been impressed with these guys from day one and can't wait to for them to open," says Mike Essian, VP of American Community Developers.
For Vermiglio, the project has been years in the making.
"In 2013, we began exploring a number of properties throughout the city. After extensive research, we realized that Midtown, and this location in particular was the perfect fit for our first venture, with an ideal balance of existing roots, community, and exciting potential," Vermiglio says in a statement.
Giacomino formerly was an executive chef at A10, a French-Italian inspired eatery in Chicago's Hyde Park neighborhood. Vermiglio, a metro Detroit native, worked as culinary director of Chef Matthias Merges' restaurant group that includes A10, Billy Sunday, and Yusho. Since announcing their plans for the new eatery, they've held occasional pop-ups (called the Ghost Tour) around town to introduce diners to their fare.
A fifth pop-up will take place April 15th at Great Lakes Culinary Center at 24101 W. Nine Mile Road in Southfield, with a 5-course menu dedicated to seafood. For more information about the dinner, click here.