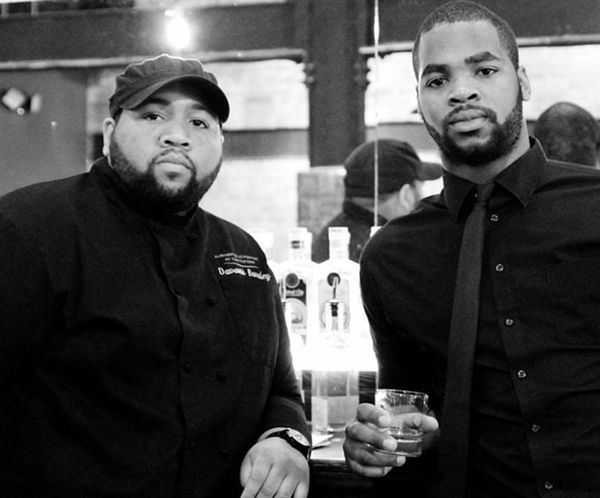 Ferndale's Livernois tap will go Hawaiian and Peruvian for an evening with a menu inspired by their chefs' heritages — Chef Elliot Patti hails from Hawaii and sous chef Moses Fishman was born in Peru. And, of course, the 1947 voyage of the Kon Tiki is the menu's guide.
"We will use the course of this voyage to guide the menu, allowing our chef team to showcase their heritage while exploring unique and delicious flavor profiles," Livernois Tap says in a release.
That means plates like katsu musubi, anticucho mushroom skewers, hot shrimp ceviche, ahi sashimi, Hawaiian pizza egg rolls, arroz con pato, and picarones with honey.
The dinner is planned for Saturday, Feb. 24 from 7 p.m. to 10:30 p.m. Tickets are $45, and are available
here
.
Another pop up worth noting is that of The Exchange, which takes over Antietam this Sunday, Feb. 18. Chef Davante Burnley will offer a five-course meal, while Justice Akuezue will develop an original cocktail menu.
Course One — Pan seared scallop & shrimp. Cilantro lime foam.
Course Two
 — Pan seared salmon arugula salad. Cucumber, pickled radish and smoked red pepper coulis.
Course Three
 — Roasted chicken a l'orange with 
roasted sweet potato hash, fried truffle, and honey Brussels sprouts.
Course Four —
Mint crusted lamb chops, curry couscous, braised kale, with red wine reduction.
Course Five
 — Lemon sorbet with Champagne macerated berries
, served with a desert wine.
The dinner is from 5:30 p.m to 8:30 p.m. on Sunday. Tickets are available
here.