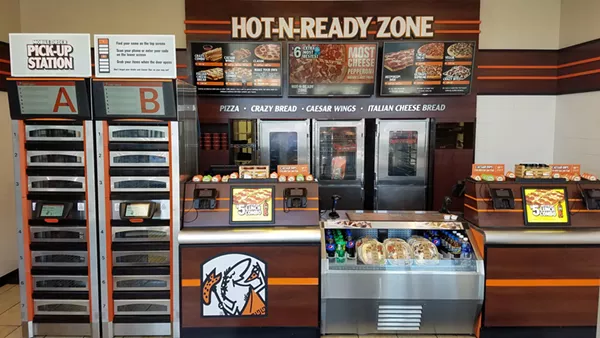 No, the Pizza Portal isn't a place you go to after you've smoked so much weed that you inhale an entire Hot-N-Ready while binge watching endless episodes of
Shark Tank
on your couch with your roommates and contemplating life, and it sure as hell isn't the name of a pizzeria/arcade that you would see in an episode of
Boy Meets World
of
Full House.


No, dear reader, the Pizza Portal is something far more out of this world than a food coma caused by pizza. Little Caesars (or as I like to call it, Lil' C) is joining in on the "skip the line" trend that you may have seen at places like Starbucks or Panera Bread with their very own one-stop shop.
Pizza-lovers will be able to order their Hot-N-Ready (and breadsticks because you know we can't skip on that, too) from a mobile app and their food will be waiting for them when they arrive to the nearest Lil' C in the magical Pizza Portal that can be seen above.
When one arrives to the Pizza Portal, you just scan your order code, open the portal of pizzas, and take home your delicious pie without having to speak to a single Lil' C employee. The more we think about the process it sounds like a strange pizza themed video game, but we're into it.
Little Caesars is
currently testing
the hot box Pizza Portals in a handful of stores in the Tuscon, Arizona area. Little Caesars CEO told
USA Today
that "It's all about convenience. In and out in seconds. No line. No wait."
The new service is being called "Reserve-N-Ready" and is
also being tested
at a Little Caesars location at a stores in Troy, 2993 E. Big Beaver. The company says that the new service won't eliminate jobs as someone will still need to be at the main counter and that they hope to have the portals in 100 stores this year alone.