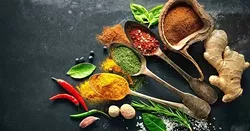 We've noted this before, the true beauty of the many pop-ups that emerge in metro Detroit is their ability to introduce diners to a myriad of different cultures.
This latest iteration comes to us from chef Amina Marhaba, proprietor of the Liberian pop-up Kitchen Ramarj. She is holding her first culinary event Oct. 11 at St. Cece's Pub.
Marhaba says she is self-taught and spent many years cooking for friends and family before deciding to start her own venture.
For those unfamiliar with Liberian cooking, Marhaba says it's heavily influenced "by contact, trade, and colonization from the United States," particularly from the American South. The food centers around rice, starches, tropical fruits, veggies, and proteins.
Rather than having the meat as the main attraction, vegetable-based entrees are the star in Liberian cuisine, she says.
"Liberian cooks are masters at extracting every drop of flavor from our tropical greens," Marhaba says in an announcement describing the event.
Marhaba is of bother Liberian and Lebanese heritage, and her cooking reflects that.
On the four-course prix fixe menu: Tripoli Bites (veggies roasted in olive oil, served with hummus, topped with feta and black olives); Liberian-style spicy chicken wings in a peanut butter sauce; palm butter stew with farm-raised hen and beef (Marhaba says palm butter is Liberia's national dish); and banana rice bread with a shot of Liberian ginger beer (non-alcoholic).
Tickets go for $40 and be purchased at
kitchenramarj.com
. Drinks can be had at the bar.
St Cece's is at 1426 Bagley Ave.
See also:
New pop-up Náp Boulé gives Detroiters a taste of Haitian cuisine

See also:
Who is rising food scene star 'Dr. Sushi'?