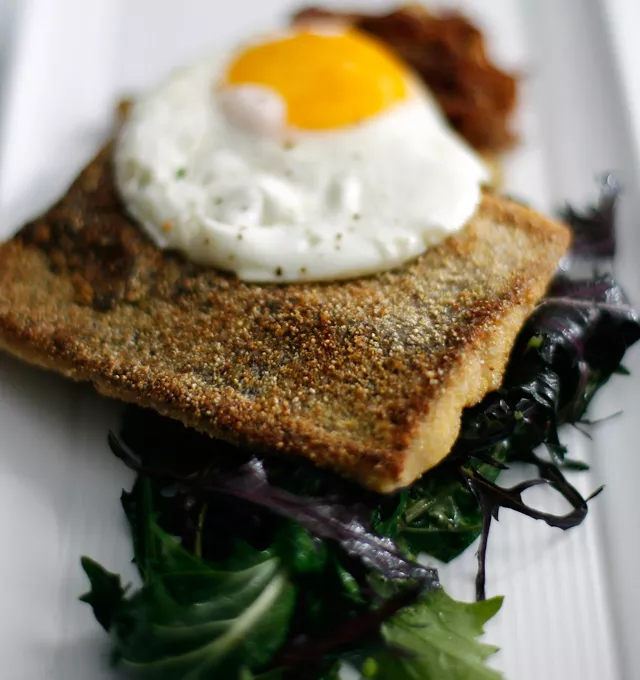 Grange Kitchen & Bar
118 W. Liberty St.,
Ann Arbor; 734-995-2107
Embracing a return to local farms and seasonal produce, American foodies are justifiably aflutter with talk of locavorism. Beyond the potential environmental advantages, the food often tastes better. Of course, as is often the case in any movement, much of the chatter about organic, natural and local cuisine amounts to just that — chatter. At Grange Kitchen & Bar, however, the chatter is part of a systematic, passionate devotion to producing the best food that the region and season allow.
Located in the heart of downtown Ann Arbor and open to the public for a little more than a year, Grange offers a genuinely different alternative to the stalwarts of Main Street's dining scene. With food sourced from more than a dozen local farms, creameries and orchards — and with details on each available on the menus and website — Chef Brandon Johns' cuisine embodies the increasingly popular locavore mantra.
The restaurant presents a narrow facade to Liberty Street in the space previously occupied by Bella Ciao, which for decades offered guests Italian cuisine in cave-like darkness. So upon entering Grange, one might expect an ill-lit interior that feels cramped. But white and lavender blue walls illuminated by candles and white linens brighten the long dining room. Servers are uniformly dressed in serious earth tones, but even they add to the space's glow with universally pleasant demeanors.
Beyond the main room, patrons may dine outside when Michigan's whimsical clime decides they should, and the upstairs bar offers the entire menu plus a short list of smaller dishes available exclusively to those seeking a quick tipple or two.
Eating seasonally is great; but it makes a reviewer's job difficult. Zucchini and squash cakes are prevalent in early fall, but you're likely to see root vegetables and canned tomatoes come February. But diners can expect a consistently creative, rewarding approach to food.
Serving as a prime example is the "Fried Pig's Head" appetizer with juicy jowl meat neatly breaded, molded and fried into a tidy cube and served with sauce gribiche, essentially a deconstructed mayonnaise using boiled eggs. A salad of arugula, pickled plums, and goat cheese creates a symphony from simplicity. And a plate of gently tart fried green tomatoes makes an ideal foil for fatty bacon and homemade ranch. Appetizers here are easy on the wallet, starting at $4 for fried chickpeas. Nearly all are less than $10, save a charcuterie plate for $15.
Entrées at Grange are hearty fare: One might see an elegant take on fried chicken, a play on surf and turf, or a brown butter-accompanied gnocchi. The pork schnitzel is a juicy — but crunchy — piece of breaded meat smothered in homemade pickled red cabbage. Inspired by a past camping meal, Chef Johns prepares a fun dish called "Fox River Breakfast," which matches whitefish with a duck confit hash and a fried egg. Each entrée shows off Michigan's offerings in an interesting way, but the crispy, delicate skin on seared whitefish plated over a sweet eggplant puree and firm brussels sprouts is elegant and delicious. With one exception from a recent menu, nothing is more than $28.
Servers here are quick to engage, as they share the chef's passion for the food. Each can assuredly recite a favorite dish or cocktail. This is fabulous, as it has provided an introduction to their delicious oatmeal cake, which features all the texture of a moist carrot cake, the flavor of an oatmeal cookie, a crispy coconut pecan topping, and a scoop of Guernsey's ice cream.
Like most of the menu, bar snacks make ample but judicious use of animal fat, particularly that of pig and duck. The burger is sweet but peppery; the chorizo with blue cheese and dates (also an appetizer) balances spicy, funky and sweet; and the scotch egg is a real value, but the star is a poutine featuring duck fat fries, duck confit, duck and sage gravy, and local cheese curd. The resulting minor myocardial infarction will not be in vain: Your taste buds will be thanking you for days.
Bargoers and diners can enjoy classic and innovative cocktails, Michigan beers and food-appropriate wines, only a handful of which were more than $45 a bottle. The cocktails are worth a specific mention because the original drinks maintain the local, seasonal theme. One employs Wasem's cider with bourbon and apple brandy; another puts plum brandy together with muddled Michigan plums, sugar, lemon and peach bitters; and another matches bourbon with Benedictine, lemon and cranberry bitters. Classic autumn flavors.
These are some of the better drinks to be had in southeast Michigan, though cocktail aficionados will have reason to quibble with mediocre ice, over-muddling of mint, and a heavy hand with sugars and syrups.
Still, there is a reason why the bar is busy all week and it's tough to get a table on weekends. With food and drink menus that live up to today's locavore hype, Grange shows us that Mother Nature knows best — and that duck fat may be her greatest gift.