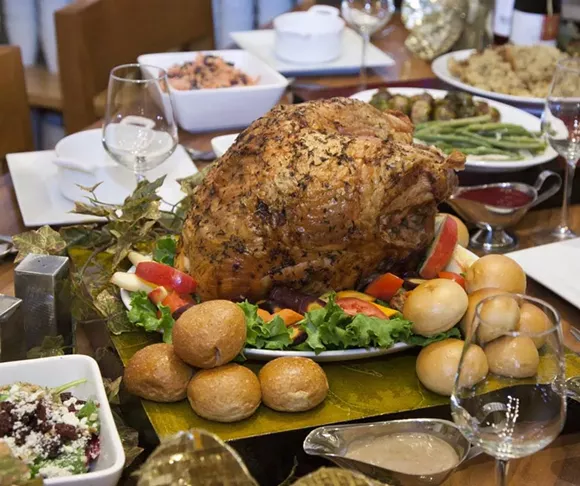 The thought of sitting down at the table for Thanksgiving dinner this year somehow seems more stress-inducing than in years past. It very well could have to do with the shock still looming since the election, not just that America elected Trump, but also that you're starting to know your relatives' true colors.
Luckily, you still have time to can skip the awkward political arguments and hit up one of several dining establishments throughout metro Detroit that open their doors to folks who would rather get straight to the business of enjoying a stress-free and delicious holiday meal.
In that spirit, we've put together an updated list of spots that still have spots available to give you that home-cooked Thanksgiving experience.
UPDATE: Punch Bowl Social, 1331 Broadway St. 9 a.m.-6 p.m. A blue plate turkey dinner special comes with all the basics: turkey, cornbread stuffing, cranberry sauce, and gravy for $16. Also available, the brunch menu from 9 a.m.-11 a.m. and the Game Day Menu from 11 a.m.-6 p.m. Plus, all the boozy punches and flat screens for Lions watching you can handle. Reservations at 313-749-9738.
MGM Grand Detroit, 1777 3rd Ave. Thanksgiving dinner will be served at Wolfgang Puck Pizzeria & Cucina and Wolfgang Puck STEAK (reservations required), TAP, for $18 (includes roasted turkey, sage turkey gravy, housemade cornbread stuffing, and classic sides); Palette Dining Studio, $32 buffet-style; and the Breeze Dining Court, featuring a selection of holiday sweets to-go from $8-$50.
Rugby Grille, Townsend Hotel, 100 Townsend St., Birmingham, starts at 11 a.m., $82 (plus tax and tip). Reservations are required and can be made on OpenTable.com or by calling 248-642-5999. Executive Chef Jason Stoops and crew prepare a prix fixe four-course menu, which includes your choice of oven roasted turkey, cider glazed salmon, or braised short rib. Plus, sweet potato gnocchi or chilled prawns, pumpkin bisque or spinach-red endive salad, and choice of pumpkin-praline cheese cake or chocolate-bourbon pecan pie tart for dessert.
Motor city Casino, 2901 Grand River, The Assembly Line, 11 a.m.-10 p.m. , $31. No reservations are needed for this buffet-style meal.
The Moose Preserve, 43034 N. Woodward Ave. Bloomfield Hills, call for reservations and pricing details. The Moose does something special for all of the major holidays, and Thanksgiving is no exception. In addition the regular menu, this places offers a special menu prepared just for Turkey Day.
Lily's Seafood Grill & Brewery, 410 S Washington Ave, Royal Oak, 12-8 p.m., $11.99 (children under 12)-$26.99. Want an all-you-can-eat menu featuring deep fried turkey, honey roasted ham, oyster stuffing, homemade cranberry sauce, and so much more? You'll want to reserve your place at this spot.
Fishbone's Rhythm Kitchen Café, 400 Monroe St. 7 a.m.-9 p.m. The eating starts first thing in the morning with a breakfast buffet of omelets, bacon, sausage, hash browns, and French toast, plus a Thanksgiving spread of turkey, stuffing, green beans and catfish. The feasting continues all day.
Ginopolis' Bar-B-Q Smokehouse, 27815 Middlebelt Rd, Farmington Hills, call for reservations, $18.95. Have a full turkey dinners with dressing, yams, cranberry sauce, salad, and pumpkin pie, as well as a choice of chicken, salmon and honey-baked ham also on hand.
Rochester Chop House at Kruse & Muer, 7504 Dixie Highway, Clarkston, 12:30 p.m. – 6:30 p.m, call for pricing. This "all-American" Turkey Day spread starts with a butternut squash bisque with toasted almonds, and continues with an apple cider brined Tom turkey with maple streusel sweet potatoes, Romeo apple stuffing, and cranberry sauce.
O'Mara's Irish Pub, 2555 12 Mile, Berkley, For a cozy corner bar tradition, O'Mara's features its classic the holiday buffet for $28.95 for adults and $14.99 for kids 4 to 12.
Bavarian Inn, 713 S. Main St., Frankenmuth, 11 a.m.-9 p.m. Here, you'll score traditional Thanksgiving fare, in addition to the famous family-style chicken dinners.