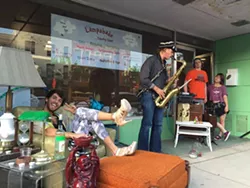 If Ernest Hemingway, Sylvia Plath, Aristotle and Janis Joplin were alive today, what kind of cafe would they choose to hang out in? That's what Ann Arbor News correspondent Tom Perkins ponders, who reports that the soon-to-open Lampshade Cafe in Ypsilanti may be just the place.
Ricky Herbert tells Perkins that the venue will be "the type of place where a 70-year-old businessman in a suit would see a 20-year-old reading Nietzsche and invite him to play chess." Billed as an emporium for all things creative and spiritual, Herbert tells the news site that Lampshade will house: "a cafe, bookstore, art gallery, art studio, classroom, event and performance space, music venue, meditation and yoga center, community center, and retail shop for local art, jewelry, healing stones and crystals, toiletries such as lotions, deodorants, soaps, and other organic, sustainable sundries, as well as other local, live-well retail that comes our way."
Herbert, an Ann Arbor native, says to the site the multi-use space will be a Stewart Beal-owned property at 206 W. Michigan Ave, which formerly housed the Green Room music venue in the late 1990s and will hopefully open sometime in September.

This spot seems like it has the makings to become a cultural staple, much in the same vein that 1515 Broadway did for downtown Detroit - a place where you could grab a latte, pound out a blog post and take in a poetry slam all in one stroke. Lampshade could have a few things in its favor: almost certainly lower rents than downtown Detroit, yet still within close enough proximity to U of M to draw in a diverse crowd. We'll keep an eye out for an official open date.