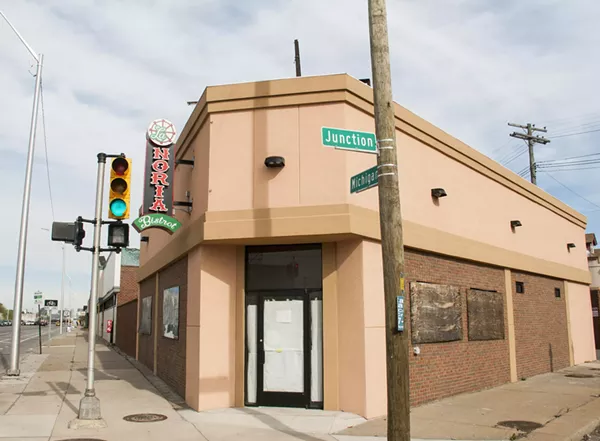 The concept at Southwest Detroit's El Barzon is original — higher end Italian and Mexican cuisine rolls out of a kitchen in a modern, tasteful eatery near Junction and Michigan Avenue.
That's the hook, though owner and chef Norberto Garita's mastery of both nation's dishes is what quietly turned the humble spot into one of Detroit's favorite restaurants.
But after 11 years, it's time for Garita's next effort, La Noria. He tells
MT
he's hoping to unveil the new wood-fire pizzeria and Pueblan street food concept by the month's end in the building next door to Barzon.
While his two projects' formulas are similar, La Noria will be a more laid back (and inexpensive) version of its older, neighboring sibling, both in terms of atmosphere and tastes. On the Mexican side of Noria's menu, you'll find dishes that are rare in Detroit and native to Garita's home state of Puebla. Most of Southwest's Mexican immigrants are from Jalisco, Garita says, and that's reflected in the food. He plans to work with some flavors unique to the area.
For example, it's safe to say he's charting new territory locally with Pueblan-style grasshopper. The insect is first cured in lemon and salt, then pan-sautéed before it's added to tacos or pizza. In Puebla and neighboring Oaxaca, grasshopper is a wintertime staple that's purchased in bulk from street vendors who catch the insect.
Beyond that, Garita will be one of the first in town to offer
tacos
árabes
, a variety not dissimilar to tacos
al pastor.
Pork for both styles essentially bastes on a vertical spit called a
trompo
that Detroiters usually see utilized for gyro meat.
But
pastor
is a sweet and savory taco, while
árabes
(Arabic) are seasoned and layered with parsley, cumin, clove, and onion. Once it's shaved from the
trompo
, the meat is folded into a flour tortilla that's similar to pita bread. Why the Arabic influence on a southern Mexican dish? Garita explains that Arabs immigrated to Puebla long ago and left their prints on the region's cuisine.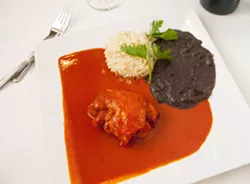 In the
tamales de frijole
, Garita wraps the black beans and masa in yerba santa, a fragrant, peppery tropical leaf found in southern Mexico that ramps up the tamale's flavor. (Interestingly, it tastes a little like root beer.)
Puebla is also known for its sandwiches, and Garita will stack several varieties, like the
cemita,
which holds
milanesas
,
carne asada
, or other meats. The name
cemita
comes from the bun itself, which is a golden brown, sweet and savory sesame seed roll. Pueblan-style
cemitas
come with
papalo,
a cilantro-like herb with a minty pop, as well as avocado, chipotle mole, and a stringy Oaxacan cheese.
The
torta Cubana
is another on Noria's sandwich roster. Though it shares a name with Florida's Cuban, it's not exactly the same. In Puebla, you'll find the sandwich with ham, chorizo,
milanesa
, Oaxacan cheese, and mayo.
For the menu's Italian side, Garita will cook Noria's pizzas in a wood-fire oven, and one-size pies will hold the usual pizza toppings, though he's considering how to incorporate grasshopper, or different moles.
Since pizzas, sandwiches, and grasshoppers are less complex than what's served next door, it will cost less. While Barzon's entrees often exceed $20 and it's not difficult for two people to drop a Benjamin on dinner, Noria's tacos will start in the $2.50 range. The sandwiches will run around $8, and the pizzas and entrees will land between $14 and $18. And, unlike Barzon, Noria will offer carryout.
Garita is carving the charming new space out of an old building that last held a coney island. He also added a beautiful brick patio full of arched doorways that will hold the bar, pizza oven, and
trompos
. But while it's all coming together quickly, final approvals are still needed, and those could potentially delay the opening.
Garita's Italian-Mexican concept is the application of all that he learned in his journey from a farm in Puebla to Southwest Detroit, with stops in Italian kitchens in New York City and Southfield's now-shuttered Il Posto. As he planned Barzon, Garita figured his entire skill set should be put to use, and with that, a new menu design was born. La Noria is another go at creating something fresh in Detroit.
"We we want to try to do something like we do in Mexico, something new for here," Garita tells
MT
. "I want to try something different. If it works, fine. If it doesn't work, OK. But I have a feeling that people will like it. People — they want to try something new."
He adds that he's thrilled to do a second restaurant in a neighborhood that's "like my hometown."
"I live very close, so when there was an opportunity to buy the place, I say 'Why not?' I can open right here, and even though downtown is very hot right now, I think people will come here," Garita says. "It's only five, ten minutes, and when you do what's good, people will go anywhere."