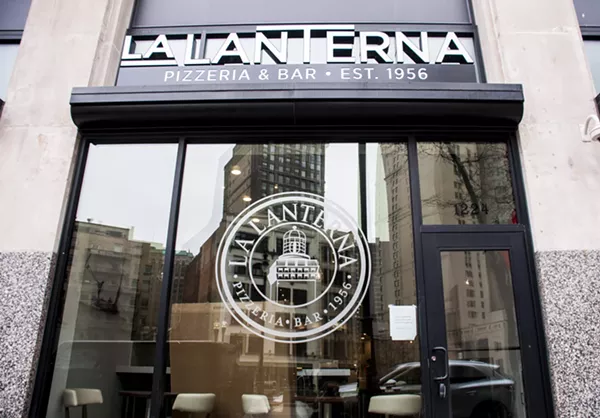 La Lanterna will open on Wednesday in downtown Detroit's Capitol Park.
As
we reported last month
, the restaurant is an undertaking of the Barbieri family's second, third, and fourth generations, and an homage to their father, grandfather, and great grandfather, Edoardo Barbieri, who launched the venerable Da Edoardo restaurant group. He also ran the original La Lanterna in Capital Park between 1956 and 1978.
The new version of the restaurant, which sits just across the park from the old location, is offering simple, traditional dishes that slant toward northern Italy's Emilia-Romagna region.
That means pastas heavy on the cream and butter. One such entrees is chicken with mozzarella and Parmigiano Reggiano that's baked with bechamel and bolognese sauce — "Italian comfort food," as Ann Barbieri Kolinski put it.
La Lanterna will also specialize in pizzas, which are a little different in Italy than here. Italian Pizzerias are more sophisticated than their American cousins.
Expect less sauce and cheese than an American pie, but high quality ingredients. The Barbieris are stocking Molino Caputo Tipo 00 flour, which is the finest grade of milled flour in Italy, and the gold standard for pizza dough. Cheeses include fresh buffalo mozzarella, Parmigiano Regiano, or pecorino Romano. On top, you won't find pineapple and ham, or BBQ sauce with chicken and bacon, but prosciutto, lemon zest, and artichoke hearts.
La Lanterna is located at 1224 Griswold St. in Detroit.