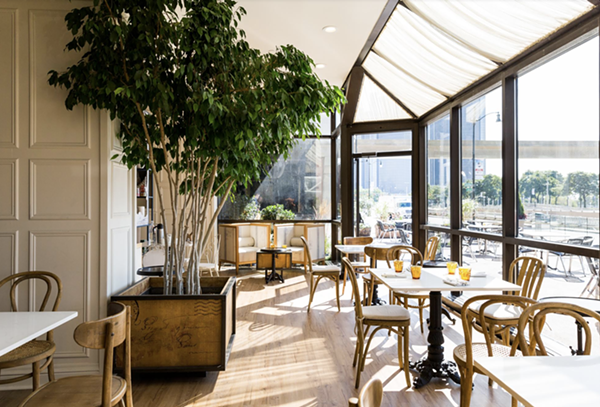 La Dulce is up and running in its new downtown Detroit location.
Owner Luis Negrete
announced in late June
that his restaurant will close its South Main Street Royal Oak space. It reopened on July 6 in a 7,000-square-foot, 115-seat location in the Crowne Plaza Hotel near Detroit's riverfront. That includes a 25-seat "meadow-inspired" outdoor patio surrounded by greenery such as fresh herbs, long grass, and imported budding olive trees.
While much of the old menu remains in place, some of new arrivals include the Piquillo Peppers & Crab with roasted red bell pepper sauce; Tomahawk Steak served with wild mushrooms and hand-cut fries; Fried Rock Fish served with sambal trio sauces; Tuna Tataki seared, and served with ajo blanco sauce and wasabi tobiko; and choice of four signature Paellas - squid ink, pork rib, seafood, or farmers' market.
The updated craft drink menu is split into three categories including cocktails, spritzes, and house gin and tonics. Among the signature drinks are Sangria (rum, house spice blend, and fresh citrus); To Your Health! (Milagro tequila, Mango Patron, watermelon, and lime); and Prickly Pear (St. George Terroir gin, prickly pear tonic, lemon grass, and thai basil.)
No word on what's in store for the now-vacant Royal Oak space.