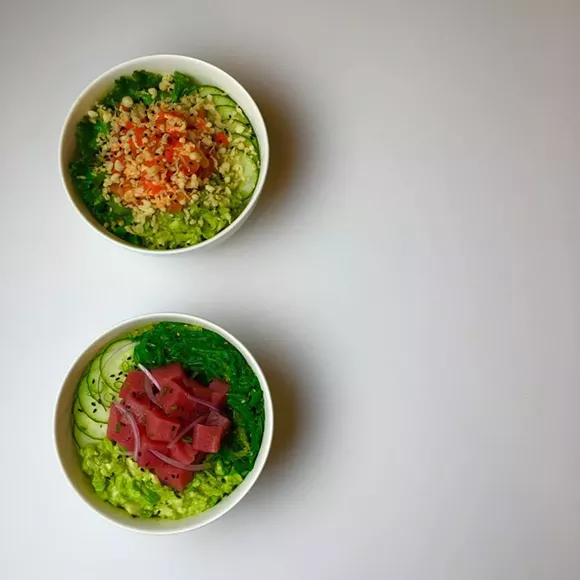 The customized poke bowl trend continues its infiltration into metro Detroit, with the recent addition of Sushi Coup in Rochester Hills.
The spot, at 147 W. Auburn Road, dubs itself as a "build your own" sushi bowl, wherein customers can pick and choose their favorite bite sized morsels of fish, rice, and veggies. They can also select a variety of signature bowl combos, including a spicy salmon, California, tempura, and tuna poke - most of which also are accompanied with an avocado mash (ahem, you mean like guacamole?).
What sets Sushi Coup a part from places like Yuzu Sushi Co. in Royal Oak, is its offering of Korean-style chicken wings.
See also:
Yuzu Sushi Co. introduces Detroit to the trendy sushi burrito
Similar to the sushi bowl fad, we've been noticing that these extra crispy, twice-fried wings are enjoying a moment in the spotlight as of late, with an increasing number of restaurants across the country offering some variation of them.
At Sushi Coup, they're hand-battered, dusted in a trio of dry rubs, and come with a soy garlic or "Asian Fling" sauce (not sure what that means).
In metro Detroit, we're aware of Gangnam Chicken in Royal Oak and Seoul Street that specialize Korean-style wings.
We'll be adding this spot to our to-try list and letting you know our first thoughts. In the meantime, do any of you know of other restaurants around here that serve a tasty Korean chicken wing?

Email all your wings tips to [email protected]