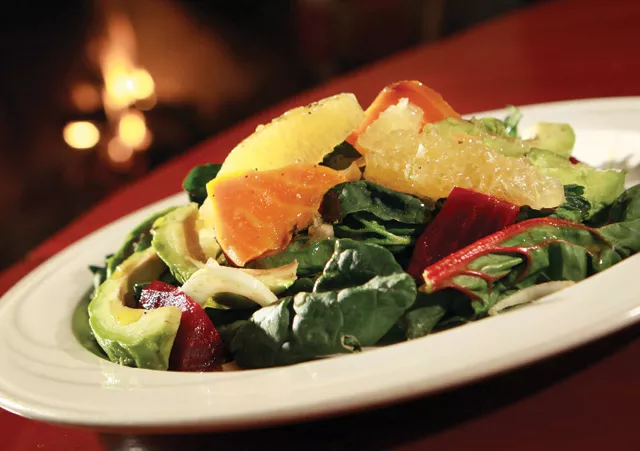 St. Cece's Pub
1426 Bagley St., Detroit
313-962-2121
Handcap accessible
Entrées: $8-$12
Kitchen is open 5-9:30 p.m. Monday-Wednesday and 5-10 p.m. or so Thursday-Saturday
A friend described the food at St. Cece's as "a limited menu but the best in recent memory." "Best in recent memory" is a pretty strong statement from someone who dines out on my dime on a regular basis, but he's right — and the menu's not that limited.
The uniformly excellent dishes at St. Cece's are the work of Adam Verville, who got his start in the restaurant business as a valet at Atlas Bistro (what else is a Wayne State University English major to do?). Most recently he's worked at the Book Cadillac's 24 Grille, making his way around the kitchen.
Verville had me at first bite, but warmed my heart further when he summed up his food philosophy: "I'm completely against Sysco and everyone like them."
The space where Verville's miracles take place is the former Baile Corcaigh. Siblings Celeste, Colette and Jerry Belanger reopened it in September last year, just three nights a week, but only began getting the kitchen together in the last few months. It was Baile owners Leo and Sharon Mooney Malinowski who built a stone fireplace there and embedded in it a map of Ireland, made up of one stone from each of the 32 counties. Their dark oak paneling and lancet-arch stained-glass windows from a 19th century Detroit church are still there, and a real fire burns in the fireplace.
The food's not pub fare; the influences are from all over, Mexico to mac and cheese. Verville's gone in the opposite direction from Baile Corcaigh's menu, which was based on the lowly potato. Though he offers burgers and pork sliders, he uses higher-toned ingredients and concoctions too: aiolis and arugula, poached pears and pomegranate seeds.
Seven "bar bites" start the menu, and as I stare at it now I find myself thinking, "Why didn't I try the charcuterie?" even though I loved the three items I did order.
One was a Scotch egg, a description of which reads like a parody of State Fair food, like a Jimmy Dean Pancake and Sausage on a Stick. It's a hard-boiled egg wrapped in sausage, coated in bread crumbs and deep-fried. But Verville's organic duck Scotch egg comes across not like a leaden bomb but pillowy, with a citrusy aioli. He says the panko he uses doesn't hold grease like regular bread crumbs.
He also makes a superior fried cake out of squash and sweet potatoes — it's super-squishy with a bit of cuminy crust, topped with a slice of cantaloupe and the whole effect quite complex.
Fried green tomatoes come with a crunchy crust and lime dressing. Macaroni and five cheeses is the other dish I wish I'd tried.
Seven-dollar salads include roasted beet, poached pear, and the obligatory kale, this time with apples and shredded squash. The warm pears are stuffed with chèvre and sprinkled with pomegranate seeds and walnuts atop big leaves of arugula. With a red-wine-honey vinaigrette, it sounds too sweet but it isn't.
If possible the entrées are even more accomplished than the starters. One evening, walnut squash cakes were available, generous in size and incredibly multifaceted, served over crisp kale. Perhaps my very favorite was rainbow trout with polenta and pomegranate seeds. The crisp fish and lemony starch are atop tangy leeks cooked down in a white wine and butter sauce. The fact that all this costs $8 does not detract from the enjoyment.
Pork sliders are served on a bun that's actually crisp, with a fabulous slaw of red cabbage and carrots. The coarsely ground Angus burger is almost impossibly tall and served with mild Chihuahua cheese and a tangy caper aioli — perfect for a rich hunk of beef.
A noodle bowl is available in a vegan version with maple tempeh, and Celeste Belanger says it's very popular, but those whose religion allows should get the pork belly bowl. It could actually use more noodles, relative to the other ingredients, and the kale should be less chewy. But those faults pale compared to the heavenly flavors of the braised pork, the carrots and the astringent sauce.
The dessert I tried was a peach tart with raspberry-bourbon sauce, an alluring combination of temperatures and textures, with custard and a crisp crust. (For specials, see St. Cece's Facebook page.)
Equal attention is paid to the alcohol, of course: local craft beers, comfortable wines and cocktails made from scratch. Celeste infuses some spirits herself, as in a drink called the Cardinal, patrons' favorite: hibiscus gin, St. Germain (elderberry flower liqueur) and fresh lemon.
I enjoyed both a $6 Spanish Laya, an everyday red our server described accurately as "even," and a cabernet, both very smooth. A $9 Bordeaux was less inviting, on the thin side.
Find the data box, readers, and admire the prices. Verville says his goal is to make good food "more available for a working man's budget." He does it by using cuts of meat that are not expensive — the highest-priced is pork shoulder — but that ultimately are more flavorful, when prepared as he knows how.
St. Cece's kitchen is open 5 p.m. till 9:30 Monday through Wednesday and till 10 p.m. or so Thursday through Saturday. The bar, of course, is open later. Fridays sometimes feature live acoustic music like Alison Lewis and Me + Joe Smith.
Jane Slaughter dines for Metro Times. Send comments to [email protected]