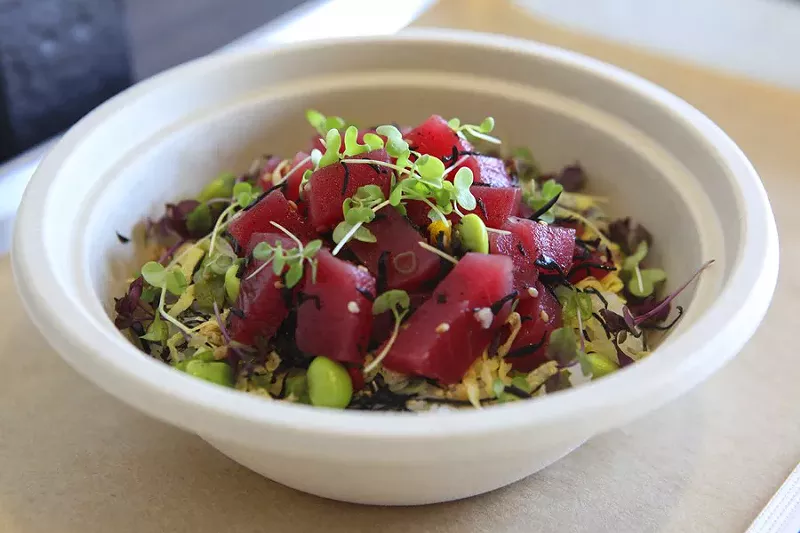 A new Kaku Sushi & Poke location is
up and rolling
in downtown Birmingham. It's the restaurant's second location, the first of which opened around a year ago on West Long Lake Road in Blomfield Hills.
Owner Kaku Usui — who previously rolled at spots like Sharaku, Oslo, and Ronin — trades in sushi, nigiri, and poke. The Hawaiian poke craze hit Michigan last year, and Kaku offers diners a choice of a predesigned bowl or a build-your-own.
The former includes options like the ahi tuna bowl with ruby red tuna, arugula, shiso leaves, scallions, edamame, sesame seeds, crisp garlic, and two seaweeds, along with a soy-based sauce.
MT
restaurant critic Jane Slaughter
explained in her 2017 review of Kaku
the process of building out your own:
It's usual to explain poké, which originated in Hawaii, as "deconstructed sushi" — the rice, fish, and other ingredients are piled into a bowl rather than rolled into a roll. At Kaku Sushi & Poké, those other elements are numerous: five possible garnishes, like tiny arugula sprouts or chopped ginger; seven "mix-ins" (like Baskin-Robbins?) such as edamame, pineapple, or two types of seaweed; seven sauces, including ponzu, Sriracha — and garlic mayo!; and six toppings such as sesame seeds, wasabi, and scallions.

With the base of brown or white rice or arugula, and the protein, that's six steps you take to design your own poké. Avocado, tobiko (roe), or crab salad cost extra.

The ingredients are laid out salad-bar-style, well-labeled, and the rules are permissive. You can mix arugula and rice for your base and choose more than one kind of protein. Once all of the ingredients are in the bowl your server tosses them with the sauce.
The new store is located at 126 S. Old Woodward Ave.
So many restaurants, so little time. Find out the latest Detroit dining news with our weekly food newsletter delivered every Friday morning.