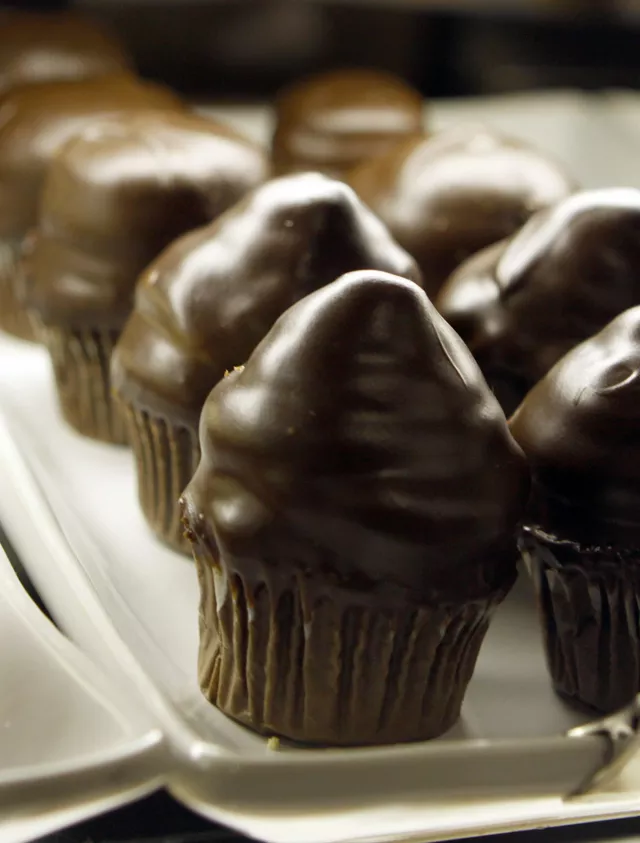 Morning Glory Coffee and Pastries
85 Kercheval Ave., Grosse Pointe Farms
313-647-0298
Handicap accessible
Sandwiches: $7
Breakfasts: $6
Morning Glory undertook to be a coffee shop with a difference — a liquor license. Owner Gretchen Valade — also proprietor of the Dirty Dog Jazz Café four doors down — promised dinner wines and java-with-a-shot, such as Spanish coffee (coffee liqueur and rum) and Irish coffee (Irish whisky and cream).
It's five months since the opening, and still no booze, so I gave up and visited anyway. When the liquor license does finally arrive, it's sure to boost evening traffic. A happy hour is planned.
Business is brisk already, though, not least because of the gorgeous baked goods made in-house by pastry chef Sandi Seaman. Right now you can see tall, bright-orange Halloween cakes ($25), chocolate or yellow or carrot cake inside, draped with spider webs, as well as amusing giant cupcakes, fresh fruit tarts — each a masterful composition of green, orange, blue, red and black on a custard background — croissants, scones, brownies, cannoli, muffins, beignets, lemon bars, raspberry ganache tarts, and the largest, roundest cherry Danish I've seen. 
Those are the good-lookers, but five rotating breads a day, by the loaf, are also on offer: Asiago, French, cranberry walnut, cinnamon swirl, Texas toast, challah, rye and multigrain for $4-$6.
The space is pleasing to the eye, as befits the Hill. There's a patio in front with Greek-style statues, bright-red iron café furniture, a glassed-in indoor-outdoor fireplace and heated floors. Inside, portraits of elephants and other African mammals grace one wall (Valade is an animal-lover). Dishes and flatware are not plastic. Prices are moderate.
The Morning Glory staff does almost everything in-house, from pounding pesto to dicing tomato relish to slicing or pulling the meats for soups and sandwiches.
I was happiest with panini, breakfast and pastries, less impressed with soups and smoothies. The menu — except for coffees and baked goods — is short.
A golden-toasted ham and cheese panini (the singular is actually panino, so when in Rome ...) used thick-sliced ham, Gruyére and a tomato slice on sourdough. Excellent. 
Equally fine was a chicken pesto flatbread, open-faced and drippy, the basil pesto soaking into the bread, with lots of shredded mozzarella. 
I've never quite understood the fuss over beignets, one of Morning Glory's biggest sellers, at 50 cents: Even in New Orleans, a beignet is a hunk of deep-fried dough, my friends. Maybe that's why the fuss, actually. Morning Glory makes them with a cinnamon sugar or powdered-sugar dusting, and if they're not exactly airy, they are, after all, a hunk of deep-fried dough.
Triangular scones are enormous and quite sweet, American style. I liked a cranberry-orange one, crunchy without and sparkly with crystal sugar, bready within. A chocolate chip version is available for those who want to gild the lily.
I swooned over both looks and taste of a pretty teacup made of hard chocolate and filled with ethereal mocha mousse, with a little chocolate stir stick for garnish. The fruit in the fruit tart — kiwis, orange slices and black-, blue- and raspberries — seems ultra-fresh, not necessarily easy when you're surrounded by rich custard and pastry.
Both soups, served in bowl-size cups and also available by the quart, gave the feel of being lavished with plenty of housemade TLC. Chicken stew uses pulled meat and is creamy, an unusual soup for home or restaurant. Smoked turkey chili is quite mild, with white beans, a creamy yellow rather than red.
Smoothies include mango-passion fruit and peach. I liked best the unusual lemon, appropriately acidic.
The cooks are protective of each meal's turf here: You can't get lunch before 11 or breakfast after (though shape-shifter quiche is offered all day). The spicy breakfast burrito is scrumptious and not at all heavy feeling, though stuffed with sausage, eggs, caramelized onions and roasted red peppers. Eggs Florentine are nontraditional, since they subtract Mornay sauce and add ham — moving them closer to eggs Benedict (but not close enough for a Hollandaise fan).
Biggest sellers, of course, are coffees, from local roaster Coffee Express in Plymouth. Morning Glory offers an Italian dark roast, a house blend five-bean medium roast, and Colombian and Kenyan single-origin specialties for the French press, as well as everything possible to do with espresso.
Besides the liquor license, once it's in place — you can keep pestering them every other week, as I did — another reason to visit Morning Glory between 8 and 9 p.m. is bargains on the goods that were baked that morning: $1 each. Day-old bread is 50 percent off.
As the weather cools, look for pastries decorated for the holidays, spiced drinks, pumpkin chai, seasonal coffees and hot chocolate, and cake lollipops.
Morning Glory is open Monday through Saturday 6 a.m. to 9 p.m. and Sunday from 8 a.m. to 2 p.m.