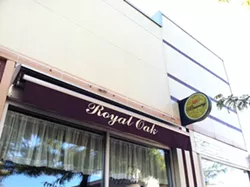 The new Jolly Pumpkin and Bastone complex in Royal Oak will open on Monday, August 7.
Jolly Pumpkin is now in the space at 419 S. Main St. that used to house Bastone and Vinotecca Wine Bar.
A Jolly Pumpkin spokesperson said via press release that Bastone now occupies the Monk Beer Abbey space located on the complex's West 5th Street side, and is refocusing its menu to specialize in Belgian cuisine and brews. Seating will be available for 60 indoors and an additional 36 on the seasonal patio
Jolly Pumpkin Royal Oak's menu will look like the brewery's other locations, and include artisan pizza, burgers, and truffle fries.
The new brewpub will also include a full bar featuring a selection of Jolly Pumpkin, Bastone, and North Peak beers on tap, as well as a Belgian bottled beer list; Nomad ciders on tap; a comprehensive wine list; and both domestic and import spirits.
Its open floor plan will seat 210 inside and an additional 40 on a seasonal patio.
The breweries are also teaming up to serve a collaborative beer, called the Co-Operation Ale, created by Jolly Pumpkin brewmaster Ron Jefferies and Bastone brewmaster Rockne Van Meter. It'll be similar to the La Roja and Nectar des Deux, but without the souring agents, a company spokesperson says.
"Our goal with this new Jolly Pumpkin is to create an all-encompassing dining and drinking experience for our patrons," says Tony Grant, Jolly Pumpkin's CEO. "Belgian beer fans will continue to enjoy both Bastone sweet beers and Jolly Pumpkin sour beers in one location.