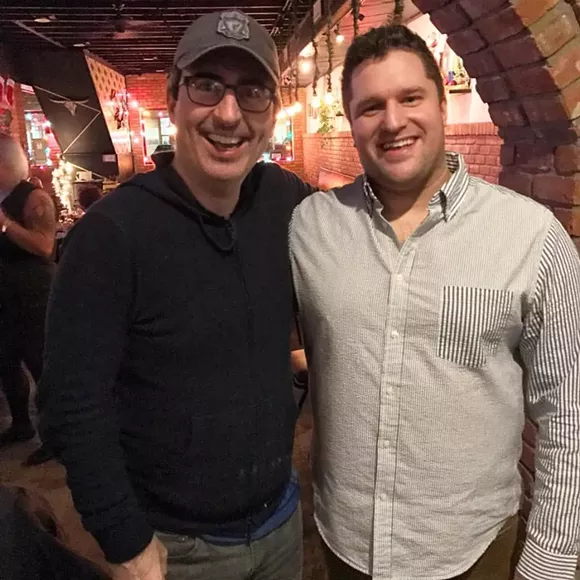 OK, indulge our inner paparazzo for a moment here.
We kinda flipped when we heard that comedian John Oliver made a stop at a somewhat low-key Corktown eatery after wrapping up his NYE performance at the Fox Theatre.
We might have expected him to hit up Café D'Mongo's Speakeasy, always a popular hot spot for visiting celebrities. Or maybe the much lauded Selden Standard, or even one of the casinos.
But we were somewhat delighted to learn that he paid a visit to Bobcat Bonnie's, the laid back gastropub that otherwise does not get a whole lot of hype.
General manager and co-owner Matt Buskard, tells us he was preparing for an otherwise uneventful New Year's Eve at the restaurant - nothing fancy, just regular dinner service and stay open late for any staff member who wanted to stick around and chill - when at about 10:30 p.m. the British funnyman and his entourage stopped in.
"Seriously, he has us sit with him and he talked to us like we were actually friends," Buskard tells us.
But the dinner party didn't just come in for a quick bite and drink, before heading off to some swanky party. Buskard says they asked if they could stay until midnight.
They wound up staying until 2:30 a.m. Oliver sampled the fried goat cheese and beef and broccoli, and plenty of Michigan pale ales, and took photos with the staff.
The impromptu appearance seems a particularly fitting way for Buskard say goodbye to 2016.
He encountered a bit of unwanted drama in the fall when people heard his plans to take over the neighboring Casey's Pub and rename it Hoffa's Hideout (his former business partner went on to call the bar Red Corridor). He eventually backed out of the deal somewhat shaken by the kerfuffle.
Of the unexpected NYE guests, Buskard tells us he was pleasantly surprised, given the restaurant does not get the kind of attention that other establishments in the neighborhood receive.
"He liked it because we were laid back and the food was good. We treated him normally, minus when someone would ask for a pic, which he gave to everyone," he says.
Who knows, with the thumb's up from Oliver, maybe Bobcat Bonnie's will become Detroit's next unassuming hideout to the stars.
See also:
Bobcat Bonnie's owner says 'Hoffa's Hideout' will go by another name
See also:
Casey's Pub drama has settled, reopens as Red Corridor