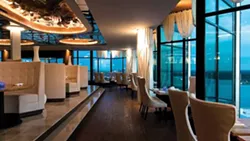 If you're at all familiar with the two restaurant concepts inside the semi recently-redesigned Crowne Plaza downtown, you would have seen this coming. The Jefferson House has shuttered, the Top of Pontch's executive Chef Justin Vaiciunas has been mostly out of the picture for months and the JH staff, including Chef Brandon Schatko, have been shuffled to the TOTP upstairs.
Since May Vaiciunas has been mainly focused on his new venture, Brera Pizza & Salad Co. He tells us that since Crowne Plaza management revealed earlier this year to he and staffers that it would be changing up the format of Top of the Pontch from that of a fine dining establishment with a menu that dabbled in molecular gastronomy, to a more of a casual concept, he decided he wanted out.
Schatko's menu is a departure from Vaiciunas' experimental culinary techniques and says his offerings are more "old school, rustic with a twist," serving up a bit of Americana, Italian and Asian selections. Meanwhile, Vaiciunas says the pizza concept, which launched in Dearborn in May, is expected to expand to a second location in downtown and that he also intends to launch an Asian-inspired restaurant sometime next year in Birmingham.
Both the Jefferson House and Top of the Pontch were supposed to be part of the grand reawakening of the Crowne Plaza, which had undergone a dramatic renovation in 2013. But the concepts floundered. Insiders who helped the Jefferson House open, said the place was disorganized. The splashier Top of the Pontch on the 25th floor of the hotel had
been criticized early on in at least one local restaurant review
, saying the most impressive part of the restaurant was its vast riverfront view, not the food. While we think Detroiters are ready to experiment with newer culinary techniques, it seems like having the two restaurants in one building was a little too much to take on all at once. Perhaps if more care was taken to refine one restaurant at a time, this dramatic reorganization could have been avoided.
We are interested in seeing how Vaiciunas' pizza venture pans out and how diners receive Schatko's redesigned menu. Question for Top of the Pontch will be, will it be enough to keep the customers coming.