(See more photos of dishes from Ima here.)

You could argue that the short strip of Michigan Avenue in Corktown needed another restaurant like it needed a pothole in the street. But that's not how capitalism works. Money flocks to where money is already succeeding, competition increases, some entrepreneurs are driven out, the cycle repeats.
Of course, as patrons of said restaurants, we can just stand back and enjoy the fray. Let the barbecue, the pasta, the scallops and burgers and scones duke it out for customers on Michigan Ave. If udon noodles can give any of them a run for the money, more power to them.
From its debut the first week of January, chef-owner Mike Ransom's Ima was already doing so, packing in a young crowd even without a drop of alcohol on the premises (a license is hoped for by spring when the patio opens).
It's hard to say the spot's name without thinking of the unfortunate Ima Hogg, daughter of a Texas governor of the last century. But Ransom says "eema," meaning "now" in Japanese — or "in the moment," he says.
Ima is small, with two long communal tables and blond-wood counters with high stools along three sides. It's a bit crowded — we wished we weren't nose to nose with the white cinderblock wall — but popularity is a good thing.
Starters are edamame; a romaine salad with refreshing jicama and pretty circles of paper-thin radish, in a green goddess dressing; and cold tacos of wakame (dried seaweed) slaw and shiso in an impossibly delicate jicama shell. One blogger wrote about the taste of shiso leaf, "Herbaceous? Citrusy? A hint of mint? Or is that basil? I might say cilantro..." Whatever, it works with the green chili hot sauce that reminded us of wasabi; we added shrimp and were satisfied. The salad too was substantial and gratifying, with cubes of avocado.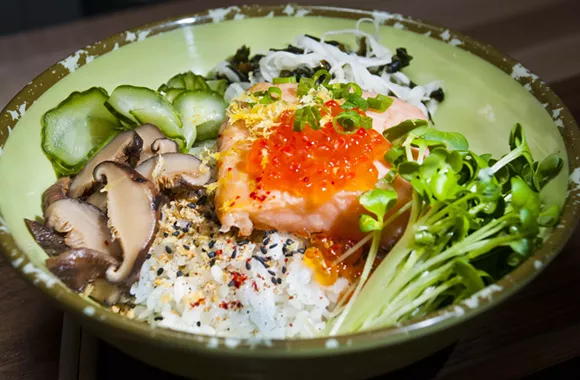 Main dishes are based on either udon or rice. I am prejudiced in favor of udon anything (or bucatini or spaghettoni); I like the slurpability of the long, thick strands, and the Japanese make some mighty good soups to show them off in. So does Ransom. His vegan forest udon is intensely mushroomy, made with both porcini broth and smoked trumpets, plus garlic oil and sheets of nori (pulped and dried seaweed). It's hard to make the texture of tofu appealing, but the smoked triangles in my bowl stayed unleathery for quite a while.
Tori (chicken) udon is more complex — it's got levels of smoky flavors in its bone broth, and uses the bird's egg as well as its meat. Other udons are a vegetarian curry and a spicy pork in miso-ginger broth.
Though I was quite happy with the udons, on my next visit I took a long time to decide among the four rice options; each sounded perfect. Finally settling on "boombap," a version of Korean bibimbap, and adding ginger beef for an extra $3, I tasted each element separately first, arrayed neatly around the edge of the pretty bowl, before swirling them into the mix that bibimbap is supposed to be. Each was flawless on its own and even better with its friends. Pickle slices were ultra-thin; they're made in-house by processing cucumber in rice vinegar and mirin in a vacuum seal machine, for just 10 seconds. Slaw was made of cabbage and wakame rehydrated in dashi broth. Shiitakes were musky, and the crisp-edged fried egg helped them all to play nicely together; a not-super-hot chili sauce did the same.
My companion offered a bit of her house-smoked salmon over rice, and we agreed that the smoke was ultra-subtle, the texture silky. It came with a sesame and yuzu (citrus) sauce, and radish sprouts offered a little counterpoint bite. I'll order this next time. The other rice bowls are barbecued eel and curry with a choice of protein.
One night we shared a $5 pot of genmaicha (green tea made with roasted brown rice), flavored with ginger. I liked the ginger but it seemed a tiny bit of unnecessary sweetener had been added. Another night my friend asked for iced cappuccino and it turned out to be a mini-can of Mr. Brown brand, from Taiwan, tasting like chocolate milk. Other beverages are the ubiquitous Mexican Coke (I believe U.S. Coke would get a restaurateur expelled from Corktown) and Topo Chico mineral water.
The one dessert is vegan: mandarin orange slices in vanilla tofu custard, with mint. It's light — just OK — nothing to order a second time.
Ransom says his idea was to make the restaurant appealing to all sorts of diners by starting some of the dishes vegetarian and letting meat-eaters add as they chose. Any dish can be enhanced with tofu, smoked pork, garlic chicken, chili shrimp, ginger beef, mushrooms, or an egg. Quite a few choices are vegan too.
A former Corktown resident, Ransom is happy to be back. Me too.

(See a slideshow of Ima's beautiful bowls here.)