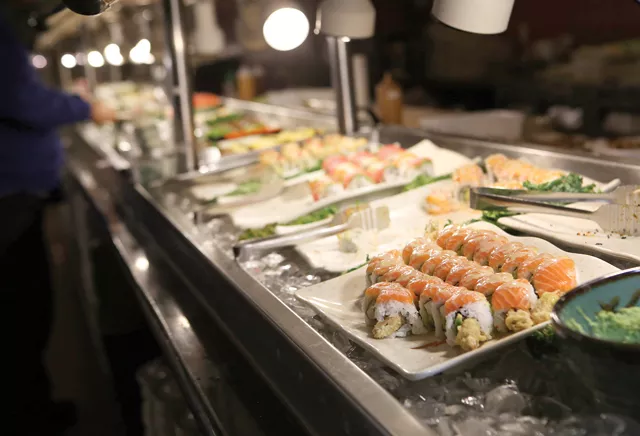 Fuji Japanese Buffet
32153 John R Rd., Madison Heights
248-616-8868
Buffet: $10.99-$23.99 depending on day and dinner
Say the word "buffet" and most people think of steam tables heaped with trays of chicken legs and roasted potatoes. And sadly, the connotation may be one of quantity over quality, as many buffets offer food that is pre-packaged, fresh-from-the-tub fare loaded off a food-service semi-truck. The state of affairs couldn't be more different at Fuji Japanese Buffet, where instead of ham and yams, you'll find tempura, teriyaki chicken and all manner
of sushi.
And the sushi is quite good. We've gone to sushi bars and found that, after gorging ourselves on nigiri and rolls, the bill sometimes amounted to more than $80. No such fears here, as the fixed-price buffet means you can stuff your face with quality sushi and still not break the bank.
The rules are simple: Get shown to a table, your server will take any drink orders ($6.50 will get you a large hot sake), bring you silverware and chopsticks, and you're off to the buffet. They ask that you not put hot and cold dishes on the same plate, but other than that, you're free to
go wild.
If you love the taste and texture of fish, Fuji's sushi offerings will delight you. Just remember to take a tray from the right end of the bar for mixing wasabi and soy. It can also get a bit competitive when crowded with the Asian customers who make up the dinner rush, though that bodes well for authenticity. Even though Fuji's talented sushi chefs work overtime to keep the sushi counter loaded, it's only natural that many diners' first choices will be salmon, crab or tuna. But all the sushi choices are quite good, if the cuts aren't as generous as when you buy sushi a la carte. If you love the oily tang of fresh fish, there's no reason to shy away from the mackerel nigiri. On both visits, we were able to load a plate with more than a half-dozen pieces of the shiny-skinned, scallion-topped pleasures. Since it's a buffet, it's a good chance to explore less commonly ordered choices, such as textured bits of eel, slightly sweet omelet strips or the delicate seaweed cups of roe, including large eggs that splash across the tongue when broken, and small eggs that crunch between the teeth like poppy seeds. The staff tells us the eggs are colored to reflect their flavor (as in green eggs are wasabi-flavored) but we couldn't detect it over the rich fish-egg taste.
For many diners, the main event will be the rolls, which tend to include a few Western-friendly choices loaded up with avocado or cream cheese. Seasoned sushi-lovers will likely pass them by for the spicy salmon skin rolls or a few choice creations drizzled with special sauces. Though there are at least a few labels on the sneeze-guard, some will require a question or a guess — but they're all worth a gamble.
Of course, Fuji is really a pan-Asian resaurant, offering Japanese, Korean, American-friendly Chinese and authentic Chinese. Opposite the sushi tables, we found excellent kimchee and seaweed salad, as well as a few other Korean offerings.
Other areas of the buffet have Chinese preparations of seafood, fowl and beef, some more authentic than others. We loved the way the chicken was prepared with a richness that approached that of duck. Our co-diner, thrilled to learn it was lobster night, worked his way through an unusually cooked lobster, then decided to pile his plate high with crab and bring a small cup of melted butter along. It was crushed with gusto.
Soups alternate. On one night, we were able to get a bowl of miso soup (with freshly chopped scallion bits to throw in, no less), on another night, egg drop. The steam table with the soups also has buns, dumplings and, sometimes, gyoza and fried, breaded chicken feet.
Of course, not everything is going to be great at a buffet. The iceberg lettuce at the salad bar was bland, and the bar itself was a bit heavy on the Jell-O. The fruit selections were OK, but the slices of melon didn't have much life left in them. Skip it and shoot instead for the ice cream, especially if green tea is an option.
We didn't try it, but they do have a Japanese hotpot called shabu-shabu, for which diners occupy a special area with tables that keep a pot of water near boiling. You add paper-thin slices of beef to it, then dip them in sauces before they go down the hatch. It's an elegant experience in which the water is used as a broth for noodles at the end of the meal.
Michael Jackman dines for Metro Times. Send comments to [email protected]
Fuji Japanese Buffet in Madison Heights.