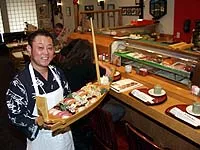 I came upon Kabuki in my travels and was interested in the restaurant's subtitle: Sushi and
shabu-shabu
.
Shabu-shabu is a classic Japanese dish, not seen often in this country. A gas burner and a vented bowl of boiling water are brought to the table. The meat and vegetables are cooked by the diners, much like beef fondue, but forget all that butter and oil. Instead, you pick up the meat, vegetables and noodles with chopsticks and swish them in boiling water seasoned with pieces of kombu, a sea kelp. The name is an onomatopoeia for the sound that chopsticks make swirling through the boiling broth.
"Don't cook too long," warned our server, Michelle, who immigrated from Korea. "Or the meat gets tough."
Two dipping sauces are provided: ponzu, a mixture of soy sauce and lemon juice, and goma joyu, a paste of ground sesame seeds, thinned with sake and soy sauce.
My co-diner grumbled, preferring the richer fondue, but I was happy. A huge platter of beef was brought to the table, fanned out in bright, red, paper-thin slices, as well as another plate with thick udon noodles, scallions and Chinese cabbage. Other common shabu-shabu ingredients include tofu, mushrooms, spinach, sliced onions and thin strips of carrot.
A bowl of miso soup, sparingly flavored with slivers of scallions and tiny cubes of tofu, begins dinner, along with a dish of sunomono, a vinegared cucumber salad. A wide assortment of sushi and sashimi is also offered.
One evening we asked the folks at the next table what they had ordered, and they were delighted to make suggestions. "We come here every week," the couple told us. On their recommendation, we tried an East roll ($5.25), one of those with the rice on the outside, a sheet of nori (black seaweed) inside, then slivers of cucumber, caviar, avocado and a tempura-fried shrimp at either end. The rice was crispy and sprinkled with sesame seeds. It was delicious. Many of the sushi rolls are inventions of chef and owner K.J. Lee, also Korean.
Another appetizer we tried, chicken kushi katsu, was a sliced, breaded and fried piece of breast meat, served on a stick. The taste was not too interesting, but would be a good choice for children.
On another evening, we ordered bibimbap ($10.95), which is a Korean dish. It is served in a stone bowl that stays hot throughout the meal, filled with rice and scoops of meat and vegetables with a raw egg in the middle. Michelle kindly showed us how to mix the ingredients together with a chopstick, a process that cooks the egg and makes things look a lot like fried rice, but again makes the dish much lower in fat.
No desserts are listed on the menu, but ask for Japanese ice cream; flavors include green tea (my favorite), plum, mango, red bean and ginger.
This restaurant, located between a Mattress King and a tailor shop, is unimposing. Inside, three sushi chefs are smartly dressed in Japanese patterned shirts of black and white. You can sit at the sushi bar or at one of the blond wood tables. The walls are decorated with Japanese prints and drawings of kabuki, Japanese masked opera where men play all the roles.
The artwork is all gifts from customers; in its two years of operation, Kabuki has a loyal following. I especially liked a banner in the back of lovely masks, with writing along the side: "Kabuki is played by boys."
Elissa Karg dines for Metro Times. E-mail [email protected].