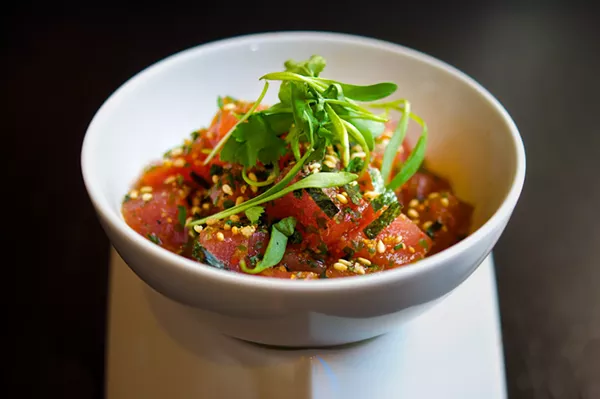 James Beard award-winning chef, Michael Schlow, is opening his new "Japanese-inspired" restaurant in Birmingham this week.
In 1999, Schlow won a James Beard Award for "Best Chef in the Northeast" with his Boston restaurant, Radius, while also collecting many more accolades through the years.
He's partnering with local restaurateurs Ken Koza and Clint Mansour to open Adachi on Old Woodward, and they're bringing in chef Lloyd Roberts. Among other restaurants, Roberts opened Nobu in Budapest and Moscow; worked at Wakame in Dubai; and ran the kitchen at The Arts Club in London.
Schlow previously told
Metro Times
that the menu would include four to five types of traditional sushi and sashimi in a "today's fish" section that's developed each morning based off of available fresh catches. The menu will also hold a series of hot and cold small plates like dumplings or poke; creative vegetarian options; and more substantial entrees that can be eaten alone or shared.
Schlow stresses that the restaurant is about fresh fish. He notes one of his peeves is visiting a sushi restaurant with a list of 15 options only to find that a number of the menu items aren't available because the restaurant couldn't get certain fish fresh.
Schlow wants to make sure nobody has to experience that at Adachi, so he's keeping the daily sushi list short.
Read more about Adachi, Roberts, and Schlow
in our previous story
on the restaurant.
So many restaurants, so little time. Find out the latest Detroit dining news with our weekly food newsletter delivered every Friday morning.