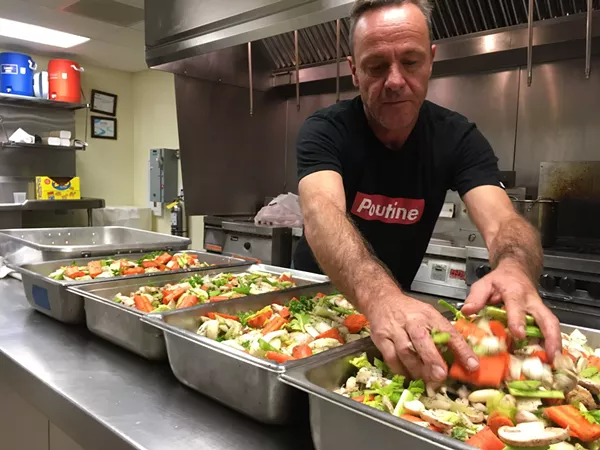 Earlier this week, we wrote about Chef Alex Young's
plans to open a new Julia Child-inspired French restaurant
called Standard Larder & Bistro just outside Ann Arbor.
This weekend you'll have a chance to preview what's in store as he pops up with a seven course meal at Hazel Park's Frame.
Southeast Michigan isn't known for its French cuisine, so it's certainly exciting to have Young – who won in the James Beard Best Chefs in America category while working at Zingerman's Roadhouse in 2011 – taking up the cause.
Young previously told us a bit about his dishes planned for Standard, which include one of duck confit ravioli in a green olive ragout. In it he fills hand made farro pasta with confit of duck and ricotta, then serves it with a green olive ragout and caramelized camembert. Another that's available on this weekend's menu is the
choucroute garnie
a dish found in the Alsatian region near the German border that usually holds three types of pork. In Standard Bistro's version you'll find smoked pork loin,
boudin blanc,
and
boudin noir
sausage that are served over sauerkraut and potatoes. 


This weekend's menu is as follows:
Hors d'oeuvres
Pan bagna, winter vegetables
Roquefort & Saucisse Feuilletés
Start
Saffron-lobster ravioli, saucisse merguez
Bread
Soup
Salad
Lyonaisse w/ red wine poached egg
Entrees
Lamb shank, buluga lentil
Dessert
Dinner service runs at 6 p.m. and 9 p.m. on Dec. 1; 6 p.m. and 9 p.m. on Dec. 2; and 6 p.m. on Dec. 3. Tickets are $75 and available
here
.