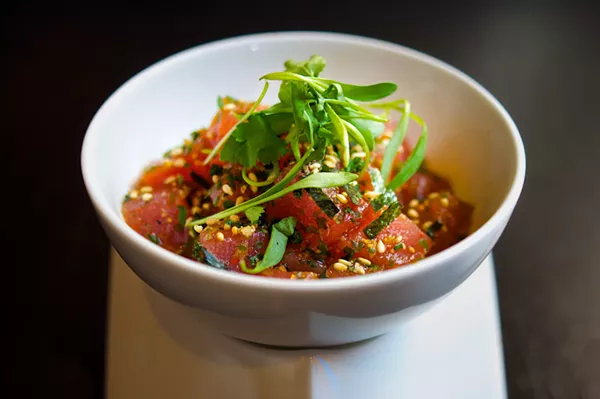 The list of James Beard Foundation Award-winning chefs and restaurateurs in metro Detroit is short. The last to win was Alex Young, who took "Best Chef In The Midwest" honors in 2011 while at Zingerman's Roadhouse, though a few who have won elsewhere
moved to the region
in recent years.
We can add one more to the list in August when Adachi opens in downtown Birmingham. It's a product of Michael Schlow, who in 1999 won a James Beard Award for "Best Chef in the Northeast" with his Boston restaurant, Radius, while also collecting
many more accolades through the years
.
He's partnering with local restaurateurs Ken Koza and Clint Mansour to open a Japanese-inspired restaurant Adachi on Old Woodward. They're bringing in chef Lloyd Roberts, and if all goes according to plan, the team could roll out its first rolls as soon as mid-August.
Schlow tells
Metro Times
that the menu is still in its final stages of development so he can't offer specifics. But it will be including four to five types of traditional nigiri and sashimi in a "today's fish" section that's developed each morning based off of available fresh catches. The menu will also hold a series of hot and cold small plates like dumplings or poke; creative vegetarian options; and larger entrees that can be eaten alone or shared.
Of course, this is the Midwest so fresh fish isn't readily available. And since it's one of two ingredients found in sushi, producing excellent rolls can be a challenge. But Schlow says he's established a network of high-end purveyors at his other restaurants, of which he owns eight between Los Angeles, Washington D.C., Boston, and Connecticut. Among the suppliers Adachi will be using is True World, the group behind Clawson's well-loved Noble Fish.
"There are few dishes that I could name that are more exposed — it's just fish and rice, or just fish, so it starts with the ingredients," Schlow says. "We are lucky enough now to have some really wonderful purveyors scattered around the country who can bring us the best quality product from around the world. There's great fish to be found everywhere, and we have purveyors who we are able to tap into."
Schlow says the other factor in sushi is the chef, and he's thrilled to be working with Roberts, a Kingston, Jamaica-native who he describes as a "very warm spirit" and who holds a deep resume. Among other restaurants, Roberts opened Nobu in Budapest and Moscow; worked at Wakame in Dubai; and ran the kitchen at The Arts Club in London.
"All these places are high end, but Lloyd is just a regular guy ... and we're not making a destination restaurant — we want this to be a neighborhood place where you can get a small bite, quick drink, see your friends," Schlow says. "It's not just about food anymore, it's about the experience, how you feel you were treated, recognized. We want to take care of you like you've been a lifelong guest of ours, and I think Lloyd embodies that."
Though the team is creating what Schlow calls a casual restaurant, he notes that "doesn't mean sloppy," and "every bit of knowledge" goes into developing the experience.
"It's a fun place, high energy — we don't want you to sit there in silence at the table in awe. We want you to enjoy yourself and have a good night," he says.
To assist with that, Adachi's beverage program will offer a range of sake, hard-to-find Japanese
whisky
, and a what Schlow describes as fun cocktails.
The restaurant will be divided into two sections that Schlow says are beautiful and acoustically sound. There will be a bar with a sushi counter and a dining room (Schlow expects the former will be a little more boisterous,) and gardens that are being developed outside which will hold a few tables during the warm months.
Though this is Schlow's first restaurant billed as "Japanese-inspired," he previously worked with a lot of Japanese ingredients at Radius, though he says he didn't advertise it. It's also his first metro Detroit restaurant, and he says he says he's thrilled to be here.
"When I came to Birmingham and the surrounding area, I fell in love with it," Schlow says. "I had some delicious food, and it's an exciting time in your area — it's really cool."
Adachi is located at 325 S. Old Woodward Ave.

So many restaurants, so little time. Find out the latest Detroit dining news with our weekly food newsletter delivered every Friday morning.