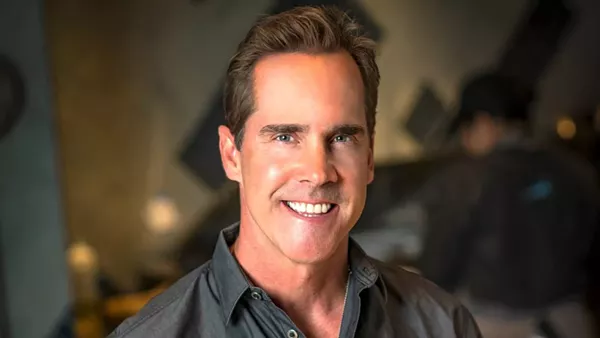 Chef Shawn McClain
announced on Sunday
he'll be taking over the former Coach Insignia space on the 71st and 72nd floors atop the GMRenCen in downtown Detroit.
While the revival of one of Detroit's best spaces is great news, it's especially exciting that Detroit is gaining a chef of McClain's caliber. Among many other awards and accolades, he won the 2006 James Beard award for Best Chef in the Midwest. The Rattlesnake Club's Jimmy Schmidt was the last Detroit chef to win a James Beard award when he took the honor for Best Chef in the Midwest in 1993. More recently, Ann Arbor's Zingerman's Roadhouse's chef Alex Young won Best Chef in The Great Lakes in 2011.
McClain tells us he operated three restaurants at the time of the award, though it was largely for his work at Spring,
a "seafood-dominant, progressive menu" that fused an Asian aesthetic with a classical approach.


He now owns a number of award-winning restaurants in Las Vegas under an umbrella company called McClain Camarota Hospitality. We caught up with him on Sunday as he returned to Las Vegas from an event at Sundance.
Metro Times
: Why did you decide you wanted to open a restaurant in Detroit?
Shawn McClain
: Detroit is home and has been for seven years. I met my wife Holly in Chicago, it's been 20-plus years there, and we decided we wanted to raise our kids here, so we came back. I've always had an eye on doing a project here, and had some stuff going in Vegas, but two years ago I really just started to concentrate and look. Serendipitously, a lot great things are happening with food in Detroit, and that's really fortunate for me.
But, you know, I selfishly want something at home and to really put a stake in the ground where I want to raise my family. I want to be tied in and be a part of a great food and beverage industry.
MT
: What made you want to take on the challenge of opening a restaurant at the top of the RenCen?
McClain
: It's a challenge creatively, for sure, but I think it's got a ton of things going for it. Not only is it an iconic location and destination that really all Detroiters know ... but in the same breath I realize it
is
a destination and journey to go there.
So I want to turn inside out the "top of the tower" experience, which is a great view and that's it. It's a one trick pony. We want to redefine that and program it so it's welcoming to a wide range of guests for something that's a little more casual to something that's a little more refined through multiple programs in the space.
We welcome everybody and we want to give them a lot of reasons to come back on a regular basis. We want it to be about all occasions, and not just special occasions.
MT
: So you'll have a couple different concepts in the two floors?
McClain:
You know, it's still forthcoming, but as you inferred from that, it's a fair statement to say that there are going to be multiple ways to experience things up there, but how they're truly defined — we're finalizing those details. It will have one broad overarching name and encompass everything on floors 71 and 72, but we anticipate some set brands falling under that headline.
Just in terms of philosophy, we look at each menu development about how it will interact with the space and community, and we've always been seasonly-driven, ingredient-driven, whether we've done casual or fine dining. So I really look forward to reaching out to the Michigan food community because there are a lot of great resources and farms from mid-Michigan that I used when I was in Chicago.

MT
: Do you have any favorite chefs or restaurants in Detroit?
McClain:
I'd hate to call anyone by name because it's just so exciting right now and I think so many people here are raising the bar. I get to travel quite a bit and when I tell people about Detroit — its story really resonates with people, and people are excited about the food and beverage community in Detroit, which is pretty cool.