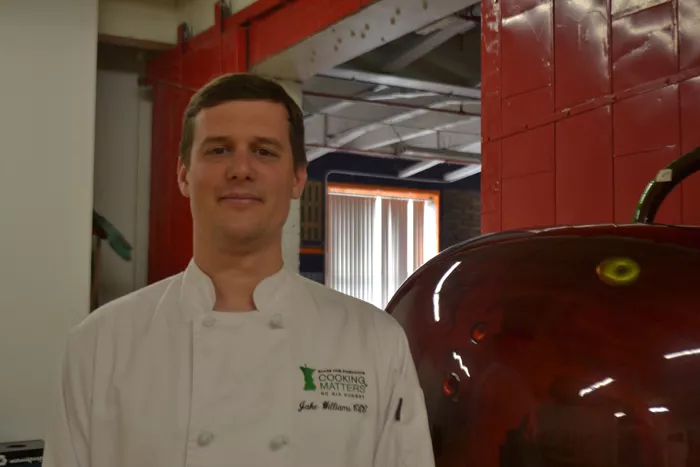 Jacob Williams, or "Jake," as he likes to be called, is a formally trained chef as well as a certified executive chef. Primarily, he works as the Cooking Matters coordinator for Gleaners Community Food Bank, where he teaches low-income residents from all over the state how to use scarce resources effectively to maintain a nutritionally balanced diet. In his spare time, he tests recipes professionally, runs charity pop-ups, has started up a Filipino food pop-up with partner Dorothy Hernandez, and works with Detroit Foodlab. He took a few minutes to explain to us how it all fits together.
Metro Times: What's the difference between making food for enjoyment and making food for sustenance?
Jake Williams: I don't think they're different. I mean, we need sustenance, but are you enjoying the food that you eat? We all value food, even if some people don't think about it that way. I teach people to better utilize their resources. If you put food in the garbage, you're throwing money away, whether you live in the richest neighborhood or the poorest neighborhood. The amount of food we throw away in this country is unbelievable, compared to the amount of food we produce. If we could better utilize our resources, then more people would be able to eat better. What I teach is how to eat more nutritionally, but also how to eat with flavor. One of the first things I teach in Cooking Matters is how to caramelize an onion. Most people think they like meat because it fills you up or it has a lot of flavor, when more than likely it's the onions and mushrooms cooked with that steak that give it the flavor. Also, I debunk the myth that you need a large budget to eat healthy.
MT: On one hand, you work with low-income families, but the other programs you're involved with — like Foodlab, the pop-ups, and recipe testing — seem geared toward a different demographic. How do you keep those two sides from feeling divorced?
Williams: I think Foodlab does a really good job of encompassing everyone in the community and not just suburbanites who want to start a jam company or sell pasta to Whole Foods. Foodlab is doing the best on that front as far as cultivating individuals who want to create a food business. The meetings are definitely more the demographics of Detroit than, say, Birmingham.
MT: So what is Detroit Foodlab?
Williams: It's an incubator of individuals who want to start their own food business. So, that could be packaged food or catering or anything food-related.
MT: What inspired you to start the Filipino food pop-up, Sarap, with Dorothy Hernandez?
Williams: The reason I've always liked food so much and cooking so much is that you don't even have to speak the same language. You can sit down at a table with someone and enjoy a meal and, although it might be uncomfortable at first, after 15 or 20 minutes the playing field levels, because we all eat. You get to enjoy things about that person's culture and then you can relate to them. I think eating is the one thing all humans have in common, but we're at a point where food is making us sick. I think bringing it back together and cooking together, actually sitting and talking and eating together makes a big difference. That's what I like about pop-ups. Most of the time, they're very communal. You sit down next to people you don't know and share a meal. Food is that thing that brings us all together. It's a great way to expand people's palates and introduce them to some foods they may not have eaten before.