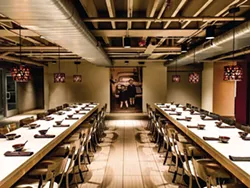 So, school in Ann Arbor has begun and you've vowed that this term will be different. No more fourth meals from Taco Bell. You've called off any and all contact with those Subway sandwiches. And you're fighting the urge to stock up on piles and piles of ramen that your dad swore got him through school... That's a good start, but we wouldn't banish all things ramen, not completely, anyway.
Slurping Turtle is setting out to get A2's starving students a lesson in the kitchen this Saturday from 11 a.m. to 2 p.m for the spot's first-ever Slurp U. This time, instead of showing off ramen skills, the kitchen will be introducing culinary pupils to the sacred art of maki-rolling. During the tutorial, dubbed, Sushi 101: Learn to Roll Maki, guests will be invited to tackle mastering 'how to craft a perfect maki roll' from sushi expert, ST's chef Tadashi.
Tickets are available online for $45 per person,
and include appetizers to go with the self-made maki rolls.