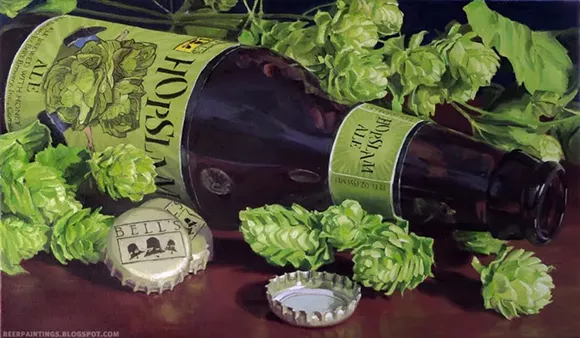 With the start of new year, Michigan beer snobs are rejoicing the return of Hopslam, that cult classic brewed by Bell's.
Starting Monday, the Comstock-based brewery began shipping cans of the 10 percent ABV double IPA all over lower Michigan, including in metro Detroit. Northern Michigan, the UP, Indiana, Illinois, Kentucky, Ohio, West Virginia, and Wisconsin will follow, with shipments starting Jan. 9.
The week of Jan. 16, 22 other states and Puerto Rico will get their share of specialty brew.
The Bell's website provides followers with its Beer Finder
page
to find out when the coveted beer will reach party stores, bars, and restaurants in their area.
As of late Friday, it does not appear that it's reached the Detroit area, but a number of local spots are already promoting Hopcat release parties. We're saving you the work of tracking it down yourself by sharing with you details for a few of the upcoming release parties.
5 p.m., Jan. 9,
Terry's Terrace
, 36470 Jefferson Ave., Harrison Township
6 p.m., Jan. 12,
One-Eyed Betty's,
175 W. Troy St., Ferndale
2 p.m., Jan. 12,
One Under Craft Beer & Eats
, 35780 5 Mile Road, Livonia
5 p.m., Jan. 13,
Big League Brews
, 20428 Ecorse Road, Taylor
If you know of any release parties, please do let us know so we can update our information by emailing us at
[email protected]