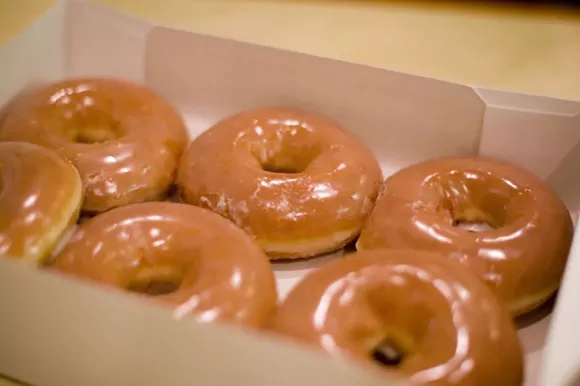 It's Monday morning, which means one thing: We're all riding the Hot Mess Express to Struggle Town.
But, Krispie Kreme wants to make your Monday morning a little less ... horrendous. So, they're offering a free original glazed doughnut to everyone who walks through their doors — as long as they talk like a pirate.
You can get away with just saying, "Ahoy!" to the friendly customer service representative waiting to take your order at the counter, or you can don that pirate costume (any three "pirate items" like an eye patch, bandana, or stuffed parrot on your shoulder constitute a costume) that's taken up residency in your closet to get a dozen original glazed doughnuts for free. You're co-workers will also appreciate your choice of Monday attire.
If you're prefer to not spend your day dressed like a scalawag, you can use Krispie Kreme's pirate snapchat filter to get that free dozen doughnuts. Just snap a selfie and show a team member inside your choice Krispie Kreme location.
Two pirate-themed doughnuts will also be available. The Pirate Doughnut is a filled doughnut decorated with a pirate face, the Skull and Crossbones Doughnut is topped with chocolate icing and finished with white icing and a skull candy piece.