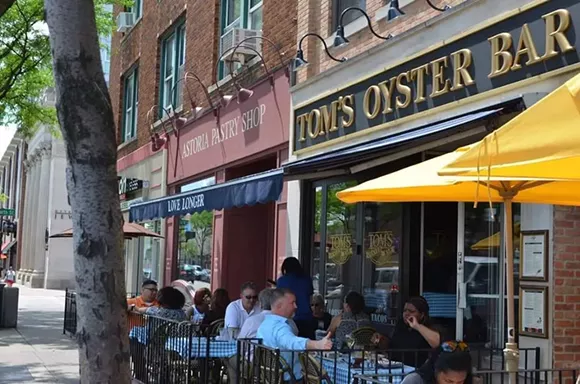 A return to more classic fare is planned for Tom's Oyster Bar, thanks to the new chef Zach Borowski.
Borowski replaced Norm Fenton, who after just a few months at the Royal Oak eatery, jumped ship last month to pursue his culinary aspirations at The Avery in Chicago (an upscale bar that's a part of the acclaimed Alinea Group).
The small plates concept introduced last fall when Fenton took charge has gone away. In its place is what you might expect under the old Tom's watch: seafood pasta Aurora, Yacht Club Mac n' Cheese, and Baja fish tacos.
Fenton, who prior to his short stint at Tom's was second-in-command at Bistro 82, tried to introduce a more modern, chef-inspired take on the longtime spot's menu. He canned the clam chowder and replaced it with his own, made with corn, purple potato, chives, and thick crumbles of bacon. He also reworked the menu's layout, emphasizing smaller, separated hot and cold appetizers, and only a handful of larger entrées. The changes were met with frustration among some regulars, more accustomed to heartier traditional courses.
Tom's is open from 11 a.m.-2 a.m. everyday (kitchen closes at 10 most weeknights, later on weekends) and is located at 318 S. Main St. in Royal Oak.