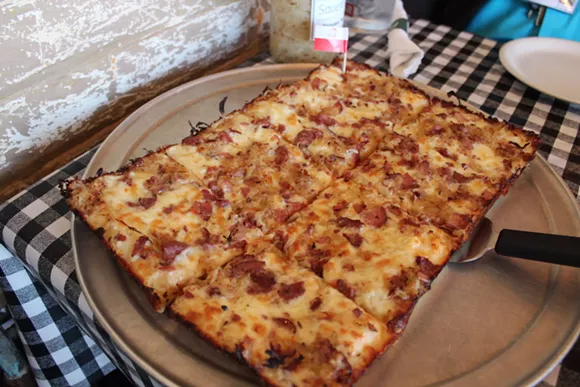 The Hamtramck-No Ham area is already known for insane fusion pizza. Take the Bangladeshi/Detroit-inspired squares that come out of Amar Pizza on Conant. Truly an only-in-Detroit hybrid, their pies come in ghost pepper, Tandoori chicken, and Naga varieties, to name a few.
In keeping with the immigrant-influence of the neighborhood, Buddy's Pizza's original location at Six Mile and Conant brings us the Hamtramck Special.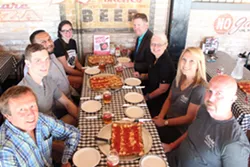 Expect this newest creation to take inspiration from the old days when Hamtown was home to a huge Polish community. Featuring kapusta-style sauerkraut from The Brinery in Ann Arbor, thinly sliced Srodek's kielbasa, and Buddy's signature red sauce, imagine a flavor reminiscent of traditional stuffed cabbage. For added measure, each order will include a Red Pelican mustard on the side for dipping.
Buddy's tested the idea last year at its Livonia location during a fundraiser for the PNA Centennial Dancers (a children's Polish folk dance ensemble), says Wes Pikula, the chain's VP of operations. The concept was a hit so the restaurant decided to bring to its menu of specialty offerings.
During a recent visit to the Buddy's Rendezvous spot, Hamtramck Mayor Karen Majewski and friends sampled and posed for photos with the new Polish-inspired pizza.
If the idea of a stuffed cabbage in pizza form appeals to your adventurous side, the Hamtramck Special can be had only at the original Buddy's location at 17125 Conant St. Hours are 11 a.m.-9 p.m. Sunday-Thursday and 11 a.m.-11 p.m. Friday and Saturday.