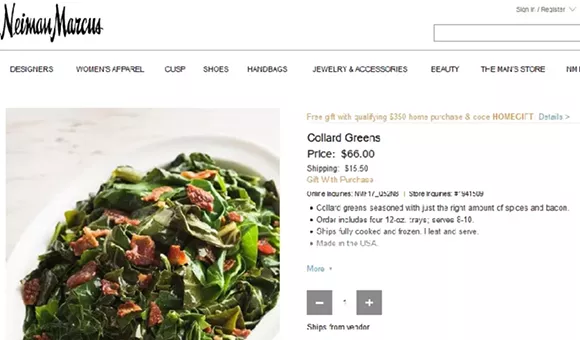 Sure, in this day and age when your every need is just a click of a button and credit card number away, you come to expect ease in the kitchen.
It's given way to the likes of Blue Apron, Uber Eats (which has yet to make its Detroit arrival), and Shipt, an app that contracts regular folks to fetch your groceries from Meijer - all products that promise to cut shopping and prep time from your cooking experience.
Still, we had to roll our eyes at the extreme that this on-demand eating culture is taking when we came across a link
advertising
Neiman Marcus collard greens, going for - get this - $66, plus shipping.
Now, instead of having to admit to family members at the Thanksgiving table that you don't cook, you can pay to have a frozen packet of greens sent to your home. Simply heat, toss into your favorite serving dish, and your lack of culinary skills are a secret for another year.
But since when did collards go luxury, and how on earth do you justify the price? A description of the greens in question say they're "seasoned with just the right amount of spices and bacon" and serves just eight to 10 people. Unless a personal chef comes to your home to personally make them and brings them to the dinner table in a crystal bowl, we'd much rather invest a few bucks and hours at Eastern Market for our own fresh ingredients (to be fair, this is not a Detroit-specific promotion).
This isn't the first time the luxury retailer has taken to gentrifying an otherwise quintessential comfort food (and, I'll say it, a dish traditional to people of color).
Last year, we scoffed at the equally ridiculous
tamales for sale
at $92, plus shipping. The "deal" (still available, according to the website) includes a mere 72 tamales available in your choice of beef, chicken, pork, or assorted. Hello, last time we made tamales with family, each relative was sent home with that many.
The collard greens offering has inspired the hashtag #gentrifiedgreens, with plenty of people
deriding
the retailer for its cluelessness.
To this, we say to Neiman Marcus, stick with the $950 Marc Jacobs handbags, and leave the cooking to the experts.