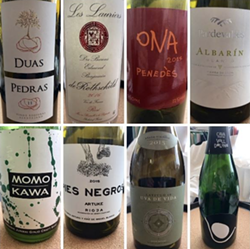 Since opening 36 years ago, Inn Season has been a favorite plant-based, organic, farm-to-fork restaurant, and its kitchen has essentially served as a training ground for chefs who go on to run their own kitchens.
But one thing has been missing from the equation: A nice glass of wine. That's changed as Inn Season recently obtained a liquor license and is now serving biodynamic and/or vegan wines; local and organic beer and cider; and kombucha.
According to a release from the company, Elie Boudt of Elie Wine Co. is helping develop the wine list, which will include everything from a sparkling Spanish cava and a French rosé to fruity whites, full reds, and even sake.
A craft cocktail menu will be rolled out in the winter.

Inn Season is located at 500 E. Fourth St. in Royal Oak.