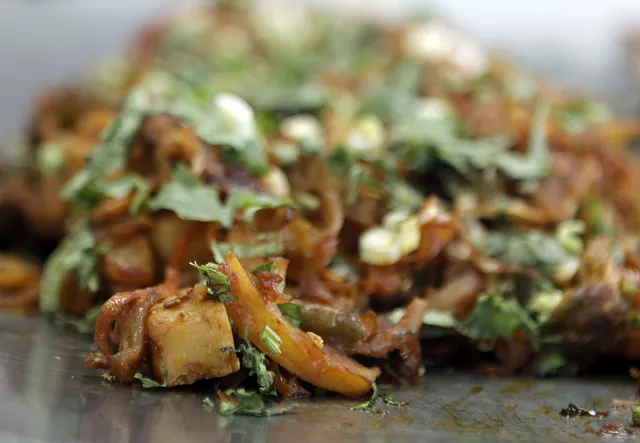 Krishna Catering & Restaurant
28636 Ford Rd., Garden City
734-513-FOOD (3663)
Handicap accessible
Entrées: $6.50-$8.50
One of many unpretentious restaurants catering to the west side's Indian population, Krishna caught my attention because of its Groupon. It's a bare-bones operation with plasticware, serve-yourself water from a cooler, just eight back-to-back tables and lots of carryout.
What's the need of a Groupon, one might ask, when some dishes go for $3.50 and the max is $8.50? It's embarrassing when your after-Groupon bill comes to $4.38 (plus a big tip). But it brings 'em into the shop, and perhaps last month's Groupon will introduce more folks not from the subcontinent to the delights of vegetarian Indian food, both street food and more.
Proprietors Manu and Ila Patel, who opened Krishna in 1994 as one of the early Indian restaurants in the area, say their dishes come from north and south India, Gujarat and Punjab, and there's a selection of "Indian-Chinese Fusion" dishes too, a recognized subset of Indian cuisine. Ila learned to cook in a Hindu temple in Kenya.
You'll recognize the chutneys, sambar, samosas and dosas and, if you've been to street-food restaurants, you know about chats, the snacks that throw together a wide range of seemingly disparate ingredients (perhaps chopped-up samosas, yogurt, chickpeas, onion, cilantro and some form of potatoes). The menu is quite different from those at the more upscale sit-down Indian places, all of which seem the same. No kormas, curries or vindaloos, and, of course, no meat. Spice levels aren't specified.
The most unusual dish I tried on the very long menu was khaman dhokala. It's cubes that looks like cornbread but are actually steamed chickpea batter, with sprinkles of shredded coconut and cilantro on top, a good combo.
The most delicious was a standard masala dosa. Dosas are thin crêpes of rice and black lentil flour from South India. My friends and I tried three different dosas, and each was a different color, texture and shape. The Patels' daughter Radhika Issac explained that different fillings and different lengths of time on the grill cause the variation. The masala dosa is a very thin, pale yellow square, rolled into a foot-long tube and half filled with a bright yellow vegetable mixture, mostly potatoes, not hot, and the tastier for it. One of the chutneys served with it is a soothing pale green coconut number, an adornment to anything it touches.
The Mysore masala dosa, in contrast, is a red-gold pancake, folded over a turmeric-flavored mix of carrots, peas, onions and potatoes, also not spicy, also delicious, while the rava dosa, made with farina, is crisp and stark white.
Sambar comes with the dosas, for dipping, though it can also stand alone as a thick, golden soup, with potatoes and, one night, whole red cayenne peppers.
Idli chat seems to be on perpetual $3.50 "special." It's a kitchen-sink-type mix of chunks of idli (which are also made from rice and black lentils, but steamed, and thicker, like big croutons), tossed with yogurt, tamarind sauce and various chutneys, and topped with what looks like little potato sticks. This sed is actually some trouble to make: it's chickpea batter, put through a strainer, deep-fried and then crumbled. Chats are not gourmet food, there's a lot going on, but it works.
Aloo paratha is a thin spicy brown pancake stuffed with mashed potatoes, fried on a griddle and very simple. Samosas are standard, though I must say my first bite put me in mind of a doughnut, given the never-unwelcome taste of fried dough. Deep-fried potato cutlets are rather soft, not crisp outside like a latke, and not very spicy. Mattar paneer, peas and cubes of mild fresh Indian cheese, is also standard, pretty spicy, the peas perhaps too soft.
Less successful dishes were vegetable uttapam, also made of lentil and rice flours, a none-too-flavorful white pancake studded with bits of carrots and peas that get lightly charred as the pancake cooks. The outside has no crispness or flakiness, so the texture is slick. In "Chinese noodles," the vegetables are sparse, mostly onions and cabbage, and there's just one flavor — hot.
No, Western reader, the Patels do not serve your favorite bread, naan. But they do have puri, and you may like the dosas almost as much. And, yes, they make fine mango lassis, at $2.25 for 8 ounces.
Krishna is open 11 a.m. to 9 p.m. Tuesday to Thursday, 11 a.m.-10 p.m. Friday and Saturday, and noon to 8 p.m. Sunday. The lunch buffet, from 11 a.m. to 3 p.m. each day, is $8.75 most days and $5 on Tuesdays.