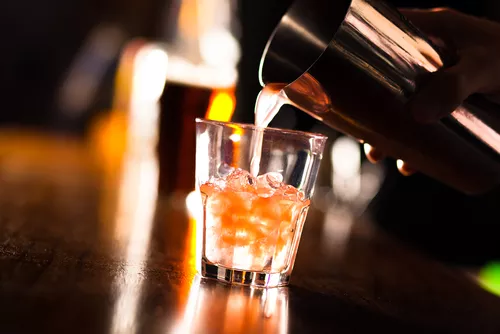 In the Market for a Cocktail? — Mark your calendars, cocktail lovers! "Cocktail Culture" comes to the Royal Oak Farmers Market next month. The event will feature custom cocktails created by bartenders from Bigalora, Torino, the Oakland, the Sugar House, the Ravens Club, the Stand, Antietam, Hamlin Corner, Public House, Great Lakes Coffee, the Root and the U.S. Bartenders Guild. Food trucks will be on hand serving special menus of food. Proceeds from the event will benefit Camp Casey, a nonprofit offering horseback-riding programs and therapy for children with cancer. It all starts at 7 p.m. Saturday, April 5, at Royal Oak Farmers Market, 316 E. 11 Mile Rd., Royal Oak; $40 advance, $50 day of; micocktailculture.com.
Bar Exam — Ever sit through a college lecture and just wish you could imbibe a drink or two while you listened? A successful new speaker series from Wayne State University invites you to do just that. On Thursday, March 20, physics and astronomy professor Claude Pruneau will give a science talk as part of the "Knowledge on Tap" series of discussions. Pruneau's topic is "Perils from Space! How the dinosaurs disappeared and so could we … and what we can do about it." The event warms up at 5:30 p.m. and the dropping of science begins at 6 p.m., Thursday, March 20, at Traffic Jam & Snug, 511 W. Canfield St., Detroit; 313- 831-9470.
Learning and Growing — Did you see Larry Gabriel's column this week? The folks behind Keep Growing Detroit are no slouches when it comes to educating people on gardens. To learn more about classes on such topics as gardening, beekeeping and more, see detroitagriculture.net and find out more about their classes and plant distributions.