(Find more photos of our favorite fried bologna sandwiches here, and photos of the bologna-packing process at Stache here.)

Is there a more misunderstood and maligned meat than bologna? Probably not. It's the sweaty, flaccid meat disc that generations of thrifty moms regularly slapped between two pieces of low-grade Wonder Bread along with a sticky slice of American cheese. It's the meat that's there when your funds aren't, and it's the processed pariah that even the Michigan Department of Corrections turns to for a cheap and effective punishment.
As one friend put it when I asked where he goes for a good fried bologna sandwich, "Is there such a thing? Bologna is gross as hell. It's hooves, horns, and snouts." That seems to reflect the sentiments of many.
But bologna with a first name is not really bologna. Real bologna is to Oscar Mayer what Camembert is to a slice of Kraft cheese — or what a loaf of Avalon's Hastings Street Challah is to Wonder Bread. When living its best life, bologna is a finer sausage prepared in small batches with Old World techniques. It's composed of natural, quality meats and spices that are whipped, blended, and packed into a mylar casing to produce a firm, salty, and sometimes smoky stick.
And when you cut a slice of bologna of that caliber and place it between bread with perhaps some pickles, grilled onions, and a little mustard, you're holding a masterpiece.
Fortunately for those of us in the Midwest, bologna is a regional delicacy. As Serious Eats notes in its bologna deep dive, bologna shares a name with Bologna, Italy, and is a close cousin to mortadella. But in the Midwest it was German settlers who fashioned bologna after their homeland's fleischwurst or frankfurter.
No-frills bars began making and serving logs, and over the years bologna turned it into a staple with as many variations as watering holes. At the same time, some of the smaller German producers grew into larger household names like Flint-based Koegel's, Kowalski, Dearborn, and Oscar Mayer.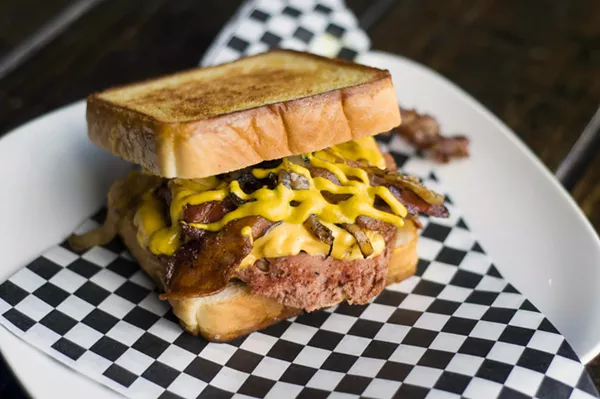 Then the "elevated regional foods" concept hit after the turn of the century, and skilled chefs like James Rigato— then at The Root — began trading in fried bologna sandwiches. He used C-Roy brand bologna, which comes from Yale, MI, the state's bologna capital and home of the Yale Bologna Festival.

Rigato says he stumbled across the festival one summer, ordered a fried bologna sandwich made with C-Roy, and, "it blew my mind. I said right then that when I open my first restaurant, I'm going to put it on my menu."

In general, the fried bologna sandwich is a more esteemed and respected dish than it was even 10 years ago.
Part of the reason for its trajectory is that eating a fried bologna sandwich is, for some, a nostalgic experience. Green Dot Stables co-owner Christine Driscoll learned just how much love there is for bologna when the Corktown restaurant discontinued its fried bologna slider.
"We took it off the menu in Detroit for a minute and brought it back shortly thereafter due to customer demand," Driscoll tells us. "Guests were really disappointed when they heard it got the boot. I think it's a nostalgia thing — I've personally served guests who exclaim, 'I used to eat those when I was a kid!' when they read the menu. Some people come in strictly for the bologna."
At Grey Ghost — which prepares bologna in-house that's served on a Bologna Cristo during brunch and a bologna with waffles plate during dinner service — chef Joe Vermiglio encounters the same sort of sentiment as Driscoll.
"Fried bologna is nostalgic for so many people. We've had a lot of customers come in and tell us that they haven't had fried bologna in 25 years, since they were a kid," he says.
A trip to the bologna factory
We use the term "factory" loosely, but every Wednesday the meat masters at Stache International in Eastern Market pack up to 60 pounds of beef bologna into mylar casings. These are beautiful logs of high-quality ground chuck mixed and stuffed with brightening spices like mustard, garlic, and coriander.
Stache's bologna-maker Steve Kay first mixes spices and meat by hand, then whips it in a food processor before packing the mixture into a bologna-making machine. The contraption essentially forces the whipped bologna through one large tube, into a much smaller tube, and out into the waiting mylar casing. Once the casing is full, it's tied off and placed in the smoker for eight hours, and then cools for a day. All told, it takes about 48 hours to make enough meat for up to 250 bologna sandwiches that Stache moves weekly.
Stache owner Ray Moses tells us that he got into the art of bologna making because it fits with what they're doing at Stache.
"We take classic traditional dishes and we try to put new spins on it. Bologna was definitely a Midwest classic, in the same way that the East Coast [has] the Philly Cheesesteak," Moses tells us. "It's sort of an unwritten, unspoken motto of the restaurant. It's what we do."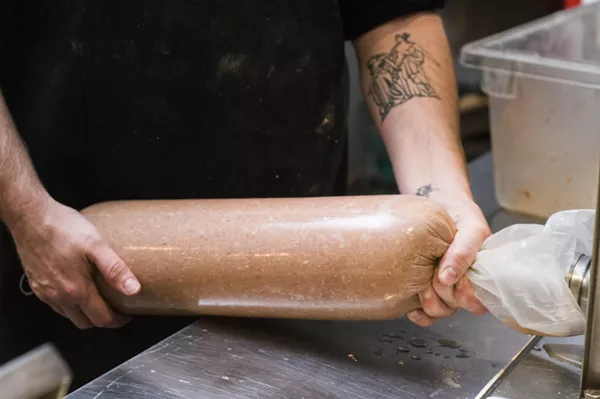 The only other restaurant in town that makes bologna in-house is Grey Ghost, where Vermiglio mixes and whips pork shoulder and fat-back cubes with ground mace, grains of paradise to provide floral notes, and other spices. He says Grey Ghost's version is similar to mortadella, and it holds none of the "hooves, horns, and snouts" that my friend claims are standard bologna ingredients.
"You're getting the same quality of pork as if you go out and get a nice, big chunk of braised pork shoulder, and it's made intentionally that way," Vermiglio says. "Bologna is pretty pedestrian, but for as simple a thing as it is, there's a lot of craft and technique behind it. To have something that's as unassuming as bologna and knowing that there's some level of craft behind it is cool."

Detroit's best fried bologna sandwiches
We checked out all the fried bologna sandwiches that we could find in metro Detroit. What follows is a list of our favorites. It's worth noting that some sandwiches didn't make the cut. We put the superior sandwiches at the top.
Stache International: Stache puts bologna's potential on display. While mechanized big-brand bologna has a weird, slick texture, the thick, smoky, flavorful all-beef discs at Stache are rougher and closer to a burger patty than a standard bologna slice. Stache stacks it with a lot of extras — thick-cut bacon, caramelized onions, melted American cheese, and a Carolina mustard sauce between two pieces of grilled garlic bread — but there's nearly a half pound of meat, so nothing is lost in the noise. The Eastern Market bar and restaurant also offers a stripped-down version with just bologna and cheese, which I'm interested in trying next time around. 1416 E. Fisher Service Dr., Detroit; 313-974-6895; stacheinternational.com
The Root: I must admit to feeling some skepticism about The Root's fried bologna sandwich when the bartender set it down. It certainly looked appealing with its golden dome sesame seed bun, the layer of crisp, green shredded lettuce, the juicy tomato slice, and generous smear of green chile mustard. But that's enough to potentially hide the bologna's flavor, and I came here for bologna, not fixings. However, not only did it work, but it was one of the best packages in Michigan. That's partly attributable to The Root's use of Yale, Mich.-based C-Roy brand bologna, arguably the best of the commercial logs. 340 Town Center Blvd., White Lake; 248-698-2400; therootrestaurant.com
Grey Ghost: Chef Vermiglio offers what is the city's most brilliant bologna application with his Bologna Cristo served during Sunday brunch. He and his crew start with bologna made in-house that's shaved paper thin instead of thick cut. But it's stacked thick on French toast made with an ice cream-based batter. That's topped with a jalapeño jam and smooth, cool, and slightly sweet cream cheese fondue. Vermiglio serves it open face, and studs the package with thin rings of crunchy, pickled jalapeños. It's sweet, spicy, salty, and hard to beat. 47 E. Watson St., Detroit; 313-262-6534; greyghostdetroit.com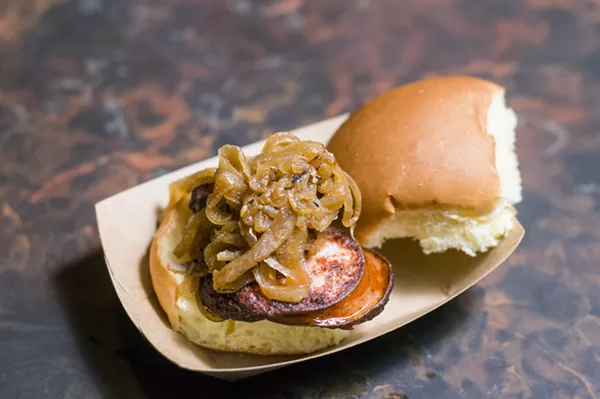 Green Dot Stables: Simplicity! Two nearly hockey-puck-sized charred bologna discs arrive under a tangle of grilled onions. Green Dot uses Dearborn-brand bologna and serves it between two soft buns. Nothing more. Just glorious bologna. 2200 W. Lafayette Blvd., Detroit; 313-962-5588; greendotstables.com
The Bronx: The Bronx puts a thick disc or two of charred, Dearborn-brand garlic bologna between toast with pickles on the side. It's simple and served in a dark bar. Dearborn doesn't skimp on the garlic, and that's a good thing. 4476 2nd Ave., Detroit; 313-832-8464
The Biergarten: Biergarten assembles a fine little package with a veal-based Dearborn bologna, some American cheese, and plenty of grilled onions between rye bread. The rye and veal-based bologna are what really sets it apart. There's not much better of a venue for fried bologna sandwiches than the Biergarten — the downtown Dearborn dive is a simple watering hole that hasn't changed much over the decades. 22184 Michigan Ave., Dearborn; 313-561-7711
Inn Place: You'll find a straightforward approach in this Royal oak dive bar, which uses a good, thick cut of Flint's Koegel's and serves it with your preferred fixins on white bread. A standard-but-solid presentation. The Inn Place also deserves some credit for being the only dive bar around downtown Royal Oak, which can be a pretty lame place. The waitress made jokes about "bologna curtains" when she brought our sandwiches out, so, yeah, that's how it goes here. 917 N. Main St., Royal Oak; 248-547-6051
Oak Cafe: The Oak Cafe offers a thick stack of thin-cut bologna. Get it with tater tots if you really want to relive your childhood. 1167 Oak St., Wyandotte; 734-283-8380; oakcafe.com
Zingerman's: This is the bologna we found that's most like the bologna sandwich you'll remember eating as a kid, so it makes sense that it's on the kids' menu. But bologna nerds will appreciate that Zingerman's lays down two slices of Sy Ginsberg brand bologna — a quality national name — that come charred with a slice of melted American cheese and a healthy squeeze of mustard between two pieces of white bread. 422 Detroit St., Ann Arbor; 734-663-3354; zingermansdeli.com
Mercury Burger Bar: Two slices of bologna are cut thick and arrive on an onion roll with lots of sautéed onions, melted cheese, pickles, and a twist — a small pile of potato chips. Bologna minimalists might want to see a little less going on between the bread, but a solid package nonetheless. 2163 Michigan Ave., Detroit; 313-964-5000; mercuryburgerbar.com