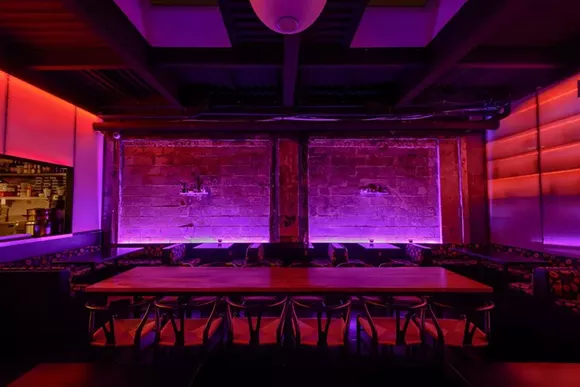 We dig Katoi for the its pungent, spicy, and regional take on northern Thai cuisine, but we have to admit, there's also something totally out of this world about the space itself.
It could be argued that its industrial, futurist feel makes for one of the coolest venues in town for a music video.
Well, that's what DJ and instrumentalist GRiZ, aka Grant Kwiecinski, had in mind when he took over the Corktown spot Tuesday night for a private party as part of his "12 Days of GRiZMAS" series.
Proceeds from the annual holiday-season event go toward charity, this year being Little Kids Rock. The electro future funk artist started his citywide tour Dec. 6 with caroling at Campus Martius. Other stopping points will include "GRiZFAM Bowling" today at Garden Bowl, "The Night Before GRiZMAS" Thursday (Dec. 15) at the Royal Oak Music Theatre, and a two-night finale "GRiZMAS" event at El Club and Masonic Temple Dec. 16-17.
In case you weren't invited to the secret Katoi show, take a look at some of the shenanigans here: