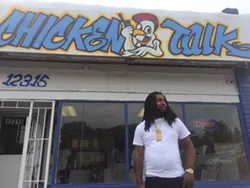 We first met rapper Icewear Vezzo in July at his newly-opened Chicken Talk, a carry-out chicken, rib and steak joint on the eastside. He had gained popularity for his over-the-top use of diamond-studded jewelry, cult following on social media and mixed tapes and in opening the restaurant, he had hoped to show neighborhood kids that there are other ways of making it big.
Today, from noon to 3 p.m., he'll be back in the giving back spirit by handing out 50 turkeys and sides for free to the first 50 people in need this Thanksgiving who show up at Chicken Talk at 12315 Gratiot Ave. From what we've seen on his Instagram account and from hanging out with him, Vezzo's got a massive following. We wouldn't be the least surprised if fans have already started lining up, and not just for a chance at a free bird.
We'll be headed out that way to catch the action. Stayed tuned, it should be some heart-warming stuff.