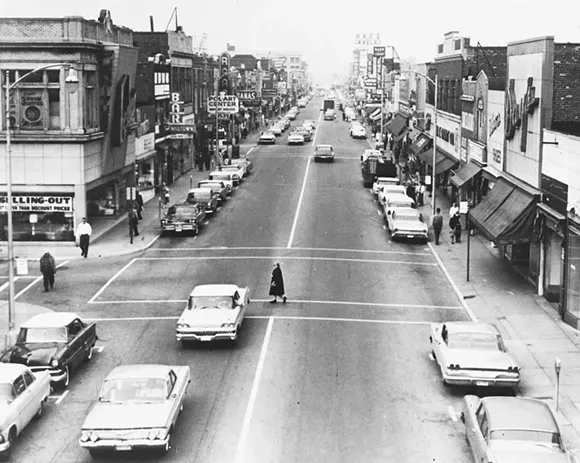 Ask any old-timer in Hamtramck about shopping on Joseph Campau Street and they'll have plenty of fond memories.
There was the fish monger, where you got to pick your own live fish from a barrel, five-and-dimes like Neisner's and Kresge, and Federal's department store, in addition to countless butcher shops, kielbasa makers, and bakeries. After shopping, there was a number of entertainment options from which to choose like movie theaters, a bowling alley, and many, many bars.
Today, not so much.
While there are still quite a few interesting eateries and watering holes throughout the town, many of the commercial spaces on Campau between Holbrook and Caniff lay vacant and blighted, much to the
frustration of locals.
While the question over how to reinvigorate Hamtramck's promising downtown continues to be a point of contention between government leaders, business owners, and residents, we can look back at what made the district a success during the Hamtramck Historical Museum's latest installment of "Hungry for History."
The "Let's Go Shopping" presentation, to be held Sept. 22, takes guests through a pictorial tour of the streets of old Joseph Campau. You can see the slideshow for free at 7 p.m. or for $15 arrive at 6 p.m. for a special dinner.
The timing of this event couldn't be better.
MLive
(and sometimes
Metro Times
) contributor Tom Perkins penned a couple of stories recently about the district's stagnant development progress, pointing to more than two dozen empty properties neglected by developer
Henry Velleman
.
Those interested in joining in on the presentation (which very well could lead to a spirited discussion about downtown Hamtramck's future), can purchase dinner tickets
here.