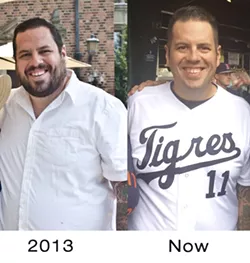 When it comes to being involved in the food and drink industry, there's one major forgone conclusion that you have to come to terms with.
You're going to be eating out, a LOT. There's really not a shortage of new restaurant openings, soft openings, menu previews, food festivals, popups, mixers and everything in between that beckon a food writer on a near-daily basis. So it should come as no surprise that many within the industry struggle with their relationship with food.
One local food blogger, Aric "Vato" Tosqui who makes up one half of the Hungry Dudes blog, eloquently put into words his struggle and shared Tuesday for the first time the drastic steps he had to undergo to not only continue doing what he enjoys, but ultimately to live.
Says Tosqui in his 3,600-plus-word essay: There is no doubt, I am and always will be a Hungry Dude. Not just in terms of working in kitchens, hitting the bars, or photographing and blogging about it. I love the food and beverage industry, period! I love how a chef's passion for an ingredient can be broadcasted to thousands on a menu. I love how a bartender can mix together concoctions that seem to transport you to a remote vacation-like location, while never having to leave a bar-stool. I love the culture, the artistry involved, the camaraderie and competition. I crave the adventure of trying out new things, having new favorite drinks, dishes, and places. I love the opportunities to tell everyone I know how much I care for the people in the industry, from the bar-backs and dishwashers, to the back of the house, to the front of the house, the chefs, the bartenders, the owners, …everyone and everything!

That's why I think that writing this story is so important. It's possible to love all of this, but still make some dramatic life-altering changes. In fact, it had to be more than possible in my case, as I really saw no other way.

Tosqui goes on to detail his many health issues, including, high blood pressure, hypertension and sleep apnea, as well as the birth of his son, as contributors to his decision to undergo Laparoscopic Vertical Sleeve Gastrectomy, a variation of Bariatric surgery in September. He notes that approximately 80-85% of his stomach was removed in the process.

The blogger also notes a disconnection he had with food growing up as a "husky" kid and goes on to urge parents to take initiative to teach their youngsters good eating habits early on as to avoid the heartache he's experienced as an adult. While he says he'll always be a Hungry Dude, he's now extremely cognizant of everything he puts into his body. No Michigan brews (the bubbles expand too much within the stomach). Keep portions down to about the size of a cup and try to get the most protein per serving as possible. His essay also includes link to several resources to help live a healthier lifestyle.

This essay is important in the restaurant industry. Whether working as a line cook, in the front of the house, a bartender or food writer, those in the business work long hours catering to fulfill the every desire of other people, whether it be giving them an amazing meal, introducing them to their favorite craft cocktail or telling a story about dining that makes a person want to make that first reservation to the new, new place as soon as possible. In the midst of that are temptations to indulge at every corner, whether it be with food or booze or late-night parties after the kitchen has closed for the night. We applaud Vato's candid story and wish him luck, despite of all those temptations out there in foodie land.