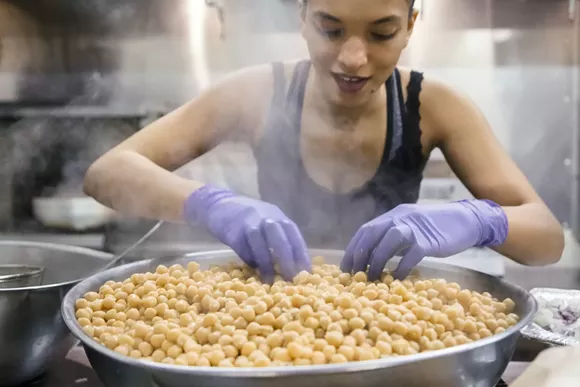 Middle Eastern cuisine - specifically dishes like hummus - is about as quintessential to our local food culture as the Coney.
And it's the stories of the people behind its culinary traditions that prominent photographer Marvin Shaouni and radio producer Zak Rosen wanted to explore as part of an upcoming audio and photo exhibition debuting next week.
The duo's Framed by WDET: Hummus Heartland exhibit focuses on that iconic dish and will feature the stories of four subjects, all with hummus having a small role.
Visitors will get to listen to each subject's story via listening station or with their phone, which accompanies 16 of Shaouni's prints.
Running until Feb. 5, the exhibit's opening night reception will also feature Liberian-Lebanese cuisine from Ameneh Marhaba, who heads the pop-up, Kitchen Ramarj.
Other subjects include a server who works at Yemen Café in Hamtramck, two neighbors - one family, Lebanese, the other Jewish - in Bloomfield Hills, and Garden Fresh, one of the largest industrial makers of hummus in the country.
We chatted with Shaouni, who says it was initially a challenge to think about the concept visually - after all, how many photos of bowls full of hummus, sprinkled with olive oil can you shoot?
Instead, he focused on how the popular dish unites people.
"The story essentially boiled down to, how we're all connected, with hummus playing a cameo," Shaouni tells us.
The event is free of charge and debuts 6 p.m.-10 p.m., Jan. 18 at Bank Suey, 10345 Joseph Campau Ave. in Hamtramck.