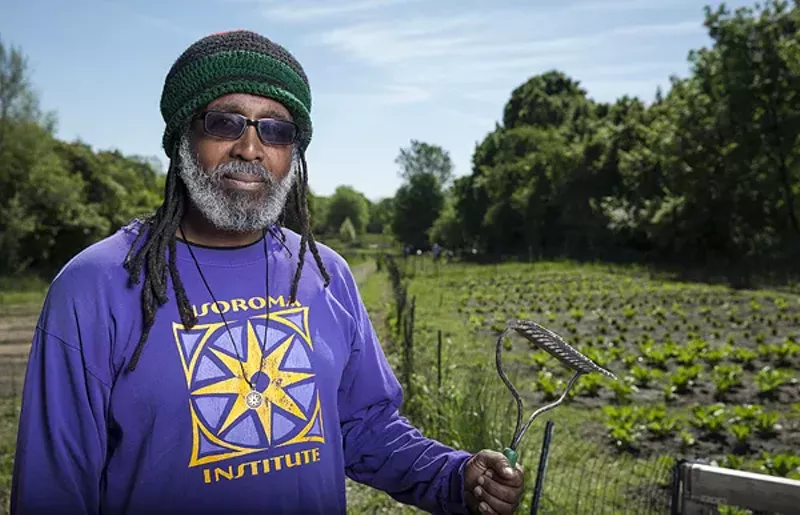 A 30,000-square-foot food commons that includes a co-op grocery store is in the works on the southeast corner of Euclid and Woodward in the North End.
Model D
reports that plans include a full-service, 10,500 square-foot grocery store called the Detroit People's Food Co-op; a 50-seat café to be leased to an experienced restaurateur; a 6,000-square-foot community meeting space; and a fully-licensed incubator kitchen.
The project, called Detroit Food Commons, is spearheaded by Malik Yakini and the Detroit Black Community Food Security Network (DBCFSN), an organization that builds self-reliance, food security, and justice in Detroit's black community. Its offices are currently located at McNichols and Livernois, but will move into the new building when it's completed.
Yakini hopes to break ground in 2018, though acquiring all 17 properties on which the project is planned requires a lot of planning and city approvals, which can take time.
Yakini
spoke with us in April
about the lack of black-owned grocery stores in Detroit, a city that's 80 percent African American. He and other community leaders said that food co-ops like the one planned in the North End are a good alternative to the traditional supermarket model, which has largely failed Detroit residents. Though the Detroit People's Food Co-op won't be 100 percent black-owned, it will be black-led.
"For us, this isn't just a business. In fact, it's not primarily a business, but more a community self-determination project that has a strong social justice component," Yakini tells
Model D
. "Serving a community that had a need was an important factor to us."
Read more about the details at
Model D
.