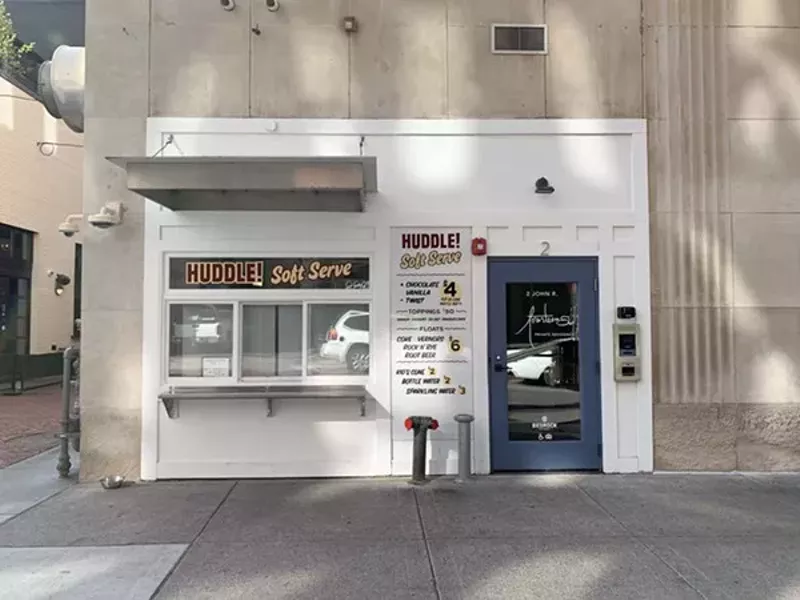 There's a fine line between soft-serve ice cream and steaming cups of broth — and that line is Michigan winters.
To make the seasonal transition smooth and soupy, Huddle soft-serve has partnered with Southwest Detroit's Johnny Noodle King to offer cups of broth out of its downtown Detroit walk-up window instead of their towering, frosty, sprinkle-topped soft-serve cones,
Eater Detroit
reports.
The broth-slinging begins Nov. 1 and will end sometime in February 2021, and will include pork, chicken, and veggie broth with mix-in options like burnt garlic miso and soaked butter. Broth will come in 12-ounce cups and will cost $6.
Don't worry, ice cream freaks: Huddle will still offer pints of soft-serve as a to-go option.
Huddle opened in 2019 in the former Chickpea in the D window, with Gather's Lea and Kyle Hunt at the helm. The goal was to offer simple soft-serve selections as a "nostalgic" and "humble" and happy pick-me-up. In addition to cones and cups, they also offer cold brew floats made with Red Hook coffee, as well as Coke, Vernors, and Faygo Rock'N Rye floats.

So many restaurants, so little time. Sign up for our weekly food newsletter delivered every Friday morning for the latest Detroit dining news.